Materials
Bring in a variety of unusual objects – strange looking can openers, the scoop that makes balls of fruit, a thread bobbin, money clip, a mouse-ball from a computer mouse, a spring from a ball point pen, a toothpick, dental floss, a zipper or button, a rivet, a staple remover, a sleeve for film negatives, a chuck key from a drill, a small screw or nose pad from a pair of glasses, a chisel, a golf ball with the outer covering removed to reveal the rubber strings, door stopper, corkscrew, and any other small objects that may be difficult to recognize.
Activity
Ask children to identify the function/ purpose for each object. Whenever an incorrect purpose is suggested, respond with, "We might be able to use it for that, but that is not why it was created."
Discussion
Discuss how each was created with a very special purpose. You could use them for different things, but they were really created with a specific purpose in mind. God created each of us with a very specific purpose. We didn't have a choice in how we were created – But we can choose to live according to our purpose.
Jeremiah 29:11-14, Psalm 139:13-16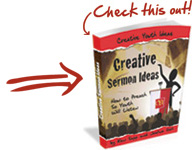 Get Help on Your Youth Sermons
Creative Sermon Ideas
This 100 Page e-Book Includes All The Help You Need To Prepare Powerful, Life-Changing Youth Sermons That Will Turn Your Preaching Around And Make Your Youth Sit Up And Listen! Includes 7 Complete Sermons.
–> I want More Youth Sermon Ideas…


| | |
| --- | --- |
| | Rate This Post by Clicking the Stars : |