Description
You may want to use this lesson guide in a Children's sermon or for a youth activity for St. Patrick's day. The significance of St Patrick's day is not in the traditions associated with it today, but in its remembrance of a forgiving teenager who was sold into slavery and escaped only to return to the country where he had been a slave, in order to bring the people there to the love of Christ.
Resources
Bring in a large three leafed clover (Shamrock) or clover stickers for each of the youth or children. You might also wear something green, or even let the youth have a taste of some traditional Irish food like corned beef and cabbage.
NOTE: Cabbage was traditionally served with Irish bacon, instead of corned beef. Corned beef is apparently an Irish American tradition started at the turn of the century because families could not afford Irish Bacon.
Introduction
St Patrick's Day is March 17, on the day of his death, and has been traditionally associated with all things Irish and a lucky clover. At some point Leprechaun's and rainbows with a pot of gold at the end somehow were included in the mythology. Like many holidays, St. Patrick's day began as a religious holiday to commemorate his death, but the original purpose and traditions have been replaced with something almost entirely unconnected to the original celebration. Many of the details of his life are disputed, but we can be certain that he did preach to the unsaved in Ireland and placed a major role in the evangelization of a very large number of people.
Background
St Patrick was the bishop to Ireland and he lived in a time just before Christianity became the mainstream religion in the Roman Empire, sometime around AD386 – AD460.
His faith journey wasn't an easy one. Like Daniel and Joseph of the Bible, he was captured by pirates and sold into slavery when he was only teenager (16 years old). Life was difficult for slaves. Not only was life difficult, but he was dragged from his home and sent into slavery in another country without his family. Tradition says that as a slave in Ireland he was forced to be a shepherd, herding sheep and pigs. His father had been a church deacon, and his grandfather a clergyman, but by his account, he only turned to religion and prayed out to God when he was in captivity. Conditions were harsh and his only comfort was what he received through praying constantly. After six years as a slave he escaped by boat to Britain. He traveled the 200 miles to the ocean and according to some stories either stowed away or booked passage. The boat landed not far from where his parents lived, and one would expect a joyful reunion and for him to remain with his parents. Instead of staying though, he traveled to France to study and become a priest. Because of his captivity, he never received any formal education and lacked the eloquence the other students had.
While studying for ministry, he received a vision from God to return to Ireland as a missionary. He only took the name Patrick when he later became a Bishop. It was a great act of forgiveness that he returned to the people who enslaved him in order to share with them the love of Christ.
Unlike most Bible teachers and preachers of the time, Patrick didn't speak very well nor deliver fine sermons. It wasn't his rhetoric that won the people over. He had the rare ability to use common, everyday life experiences to explain difficult theological concepts – much like Jesus did and the apostle Paul after Him. That's pretty much why St. Patrick's Day is represented by a shamrock. According to legend, Patrick would take up a three-leaf clover and ask, "Does it have one leaf or three?" Those listening would respond, "both." Patrick then explained, "And so it is with the Trinity – Father, Son, and Spirit are one God. Three persons in one." However, that alone wasn't enough to bring his people to faith in God either.
Ironically, what he lacked in school, he more than made up for by what he learned through his upbringing of trials and adversity. And that was a desperate dependance on God through prayer. This was more than any theological school could teach him and it was instrumental in his success as a minister of God. It was that and the demonstration of his faith through his actions and prayer life that convinced so many to believe in God.
St. Patrick wasn't just a minister for God inside the 4 walls of the church. He was outspoken about the practice of slavery in his country as well. His repeated pleas to the Christian leadership in Britain were ignored but he persisted and like the widow in Jesus' parable, was rewarded – with the decision to end the slave trade in Ireland.
Take It to the Next Level
There's much we can learn from the life of St. Patrick.
If you were captured and put into slavery as a teenager, do you think you might feel called to return to those who enslaved you and work for the salvation of their souls? I'm sure we've had at some point harbored unforgiveness in our hearts for less! Is forgiveness easy or difficult? Why is forgiveness an important concept to Christians? Is there someone you need to forgive today?
Sometimes we're so caught up with discussing God in church that it never results in DOING what Jesus really called us to do. Jesus never called us to go to church on Sundays, He never called us to play music in the worship team, He never called us to serve Him as ushers. First and foremost, Jesus called us to go and make disciples, to love God with all our hearts, and to love His people. When all is said and done, do we live out our faith in the world "out there"? Are we sharing about Christ to our friends and families who have yet to know Him? Are we speaking out against the social injustices that we see? Is there a school bully you need to confront – not with your fists – but with the love of God? Is there someone who feels lost, hurt, depressed and rejected that needs to hear about the love a Savior has for them?
Let's commit to being real St. Patricks today. As we remember and honor the man that was truly a follower of Christ, let us celebrate by putting our feet to motion and our hands to action for a world that has yet to hear or know about the Living God.


MORE IDEAS? See "Creative Object Lessons"
200 page e-book that explains everything you need to know when planning your very own object lessons. It contains 90 fully developed object lesson ideas and another 200 object lesson starter ideas based on Biblical idioms and Names / Descriptions of God.
Learn More…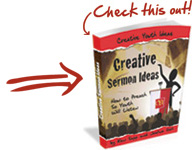 Get Help on Your Youth Sermons
Creative Sermon Ideas
This 100 Page e-Book Includes All The Help You Need To Prepare Powerful, Life-Changing Youth Sermons That Will Turn Your Preaching Around And Make Your Youth Sit Up And Listen! Includes 7 Complete Sermons.
–> I want More Youth Sermon Ideas…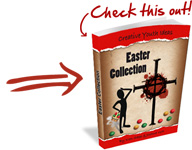 Easter Collection
Games and Activities in celebration of Easter.
Get more than 80 creative ideas for planning a Youth Easter celebration or Easter Party. You can immediately download my best Easter Icebreakers, games, illustrations, Easter activity ideas AND MUCH MORE in a useful ebook!
=> Tell me more about the Easter Collection


| | |
| --- | --- |
| | Rate This Post by Clicking the Stars : |