Materials
1. A blank sheet of paper and something to write with for each person.
2. A timer
Activity
1. On your signal to begin, everyone should write down everything they are thankful for that can be described in two words or less.
2. Set a timer, for two minutes (or less) and tell them to begin.
3. When the timer goes off each youth must count how many items they have.
4. The person with the most items should read their list and if anyone else has those items on their list also, then everyone who has the items must cross them off the list. Only unique items remain.
5. The next person continues in the same way, calling out the items that remain on his/ her list. If the item is unique it remains. If someone else has the same item than all who have it cross the item off their lists.
6. Continue until everyone has gone, then each person must count up the unique items he or she has on the list.
7. Award a prize for the person with the highest number of unique answers.
Discussion
1. What was the most surprising thing that someone was thankful for?
2. How did creating your list affect you?
3. Did you have more or less items than you thought you would have?
4. How did it make you feel when you discovered that others felt blessed for the same things as you?
5. Of all the things on your list, which is most significant for you?
Scripture
Colossians 3:17: "And whatsoever ye do in word or deed, do all in the name of the Lord Jesus, giving thanks to God and the Father by Him"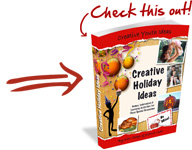 Holiday Collection


Games and Activities in Celebration of common Holidays.
Creative Holiday Ideas has over 300 pages of ideas to help you plan your next New Year's Day, Valentine's Day, Mother's Day, Father's Day, Halloween or Fall Festival, and Thanksgiving event. If you've ever wondered what you're going to do for all these holidays and how you're going to do it, this resource is for you.
=> Tell me more about the Holiday Collection


| | |
| --- | --- |
| | Rate This Post by Clicking the Stars : |