There are a lot of arguments against celebrating Halloween.
While many people believe we should redeem the event for Christ, others wonder, is a Fall Festival or Harvest festival just a replacement for the pagan holiday? I'll leave that judgment up to you but here's some food for thought for those who DO have a Harvest Festival as a Halloween alternative. You might even use this for a Bible Study at your event!
In the Old Testament God's people were COMMANDED to celebrate the Harvest. (Exodus 23:16 and Exodus 34:22)
There are other references in Scripture too. Harvest-time was a time to show joy and thankfulness that God had provided for his people. But here's the difference: We do not worship the harvest. We worship the God of the Harvest. Because of God's Blessings you can have Hallelujah Night instead of Halloween!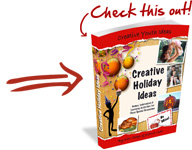 Holiday Collection


Games and Activities in Celebration of common Holidays.
Creative Holiday Ideas has over 300 pages of ideas to help you plan your next New Year's Day, Valentine's Day, Mother's Day, Father's Day, Halloween or Fall Festival, and Thanksgiving event. If you've ever wondered what you're going to do for all these holidays and how you're going to do it, this resource is for you.
=> Tell me more about the Holiday Collection


| | |
| --- | --- |
| | Rate This Post by Clicking the Stars : |