Description
Just for fun. In this mad lib, you replace some of the words of the "Night Before Christmas" with words written by youth and chosen at random.
What you need
Slips of paper and something for youth to write with.
A print out of the modified "Night Before Christmas"
Create and label a box for each of the following categories. I have placed the number of items used from each box behind the category. This game uses 13 names. If you don't have enough in any given category, just reuse those in the box more than once. Not all the pieces of paper will be used in the poem.
Word Categories
PLACE IN HOUSE – 2
ANIMAL – 4
THINGS – 6
FURNITURE – 4
NAME – 13
item of CLOTHING – 5
ACTION VERB – 5
SOUND – 6
VEHICLE – 2
BODY PART – 11
ADJECTIVE – 10
What to do
Give each youth pieces of paper and a pen or pencil.
Have eah youth write ONE WORD for each category and place it in corresponding box.
Once all the youth have contributed, Begin to read the "Night Before Christmas." Whenever you get to one of CATEGORIES in ALL CAPS, draw a slip of paper from that category and fill in the word on the piece of paper into the poem. You will need to use the correct feminine or masculine pronoun for each name used. I like to ask each youth to stand up when their name is called until the next name is called to make it easier to remember who is being talked about.
Notes:
If anything is inappropriate you can simply censor it by drawing out another piece of paper.
You can also censor the word if it would be particularly embarassing to a specific youth. Use your own wisdom.
Variation
Each youth must stand up when their name is called until a new name is called and if any actions are called out they must act out those actions.
THE NIGHT BEFORE CHRISTMAS 
Modified with apologies to Clement Clarke Moore
'Twas the night before Christmas, when all through the PLACE IN HOUSE
Not a creature was stirring, not even a ANIMAL;
The THINGS were hung by the FURNITURE with care,
In hopes that NAME soon would be there;
The youth were all nestled all snug in a FURNITURE
While visions of THINGS danced in their heads;
And NAME in a CLOTHING, and NAME in a CLOTHING,
Had just settled down for a long winter's ACTION VERB,
When out on the PLACE IN A HOUSE there arose such a SOUND,
NAME sprang from the PLACE IN HOUSE to see what was the matter.
When, what to my ADJECTIVE, BODY PART should appear,
But a miniature VEHICLE, and eight tiny ANIMALs,
With a little ADJECTIVE driver, so ADJECTIVE and ADJECTIVE,
I knew in a moment it must be NAME.
More rapid than ANIMALs his/her coursers they came,
And s/he SOUND-ed, and SOUND-ed, and called them by name;
"Now, NAME! now, NAME! now, NAME and Vixen!
On, NAME! on, NAME! on, NAME and Blitzen!
As I drew in my BODY PART and was ACTION-VERBed around,
Down the FURNITURE NAME came with a bound.
S/He was dressed all in CLOTHING, from his/her BODY-PART to his/her BODY-PART,
And his/her CLOTHING was all tarnished with THINGS and soot;
A bundle of THINGS s/he had flung on his/her BODY PART,
And s/he looked like a peddler just opening his/her pack.
His/her BODY PART — how they ADJECTIVE! his/her BODY PART how ADJECTIVE!
His/her BODY PART were like THINGS, his/her BODY PART like a cherry!
s/He had a broad BODY PART and a little ADJECTIVE belly,
That shook, when s/he ACTION-VERB like a bowlful of THINGS.
S/He was ADJECTIVE and ADJECTIVE a right jolly old elf,
And I laughed when I saw him/her, in spite of myself;
S/He spoke not a word, but went straight to his/her work,
And filled all the CLOTHING; then ACTION with a jerk,
And laying his/her BODYPART aside of his/her nose,
And giving a nod, up the FURNITURE s/he ACTION VERBed;
S/He sprang to his/her VEHICLE, to his/her TEAM gave a SOUND,
And away they all flew like the SOUND of an ANIMAL.
But I heard him/her SOUND, ere s/he ACTION VERB out of sight,
"ADJECTIVE Christmas to all, and to all a good-night."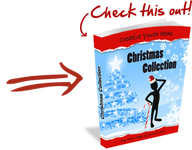 Christmas Collection


Games and Activities helping youth discover the Reason for the Season.
Get more than 200 creative ideas for planning a Youth Christmas celebration or Christmas Party party. You can immediately download my best Christmas Icebreakers, games, illustrations, Christmas activity ideas AND MUCH MORE in a useful ebook!
=> Tell me more about the Christmas Collection


| | |
| --- | --- |
| | Rate This Post by Clicking the Stars : |