American Football is a national past-time for most Americans and the most famous football game is the Superbowl! Just days away, the Superbowl is a great opportunity to tackle a few games with your youth while you score a few goals for the kingdom of God!
Here are some great ideas on the Creative Youth Ideas website to do Just that:
Christian Team
In many ways, the Body of Christ is similar to a football team. Use this Superbowl Teaching Illustration to show that, like a football team, the members of a church each have different positions and they all work together for a common goal.
SuperBowl Teams
Can you name all the football teams represented by these creative descriptions. This makes for a fun icebreaker for your Superbowl Party. You can also put the description on one name tag and a corresponding name for the football team on another name tag. When guests arrive, give them a name tag and have them try to find their match.
The Father's Eyes
Use this touching football themed illustration for a sermon or talk at your Superbowl Party to teach youth about our Heavenly Father's love for us.
Football Trivia
Do you know how many cows sacrifice their skins for footballs? The origin of the the football huddle? Check out this entry for fun football Trivia!
Spectator Sport?
Use this Football themed devotional to talk about pressing on toward our goal in life as Christians.
Not Looking Back
Superbowl winners get a gold ring and the team gets a trophy. To simply play in a Superbowl game is an accomplishment. To win is a great achievement. But as the years go by, we often forget who won which Superbowl game. The accomplishments fade. But Paul wasn't interested in past accomplishments. He was focused on the future! Last year's game was not as important as what lies ahead. Use this Football themed illustration to talk about giving up everything to pursue our calling in Christ!
SuperBowl Charades
In this classic football themed variation of charades participants must act out phrases or words in order for team members to guess the correct phrase. It's great for your Superbowl party and has discussion questions and teaching points for living the Christian life. Use it for a half-time game or after game activity at your next Superbowl party!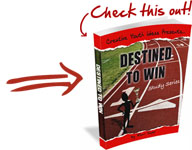 Destined to Win
Need a Youth Camp/ Bible Study Series on "Running the Christian Race"?
Our "Destined to Win" series is a great follow up for youth who are new Christians or to emphasize the basics of our spiritual Journey in the Faith. This Bible Study / Camp Curriculum / Small Group Study has a sports theme and is great for athletes and works well as a tie in to what's going on in the NBA and the current Linsanity.
->Tell me about "Destined to Win"


| | |
| --- | --- |
| | Rate This Post by Clicking the Stars : |