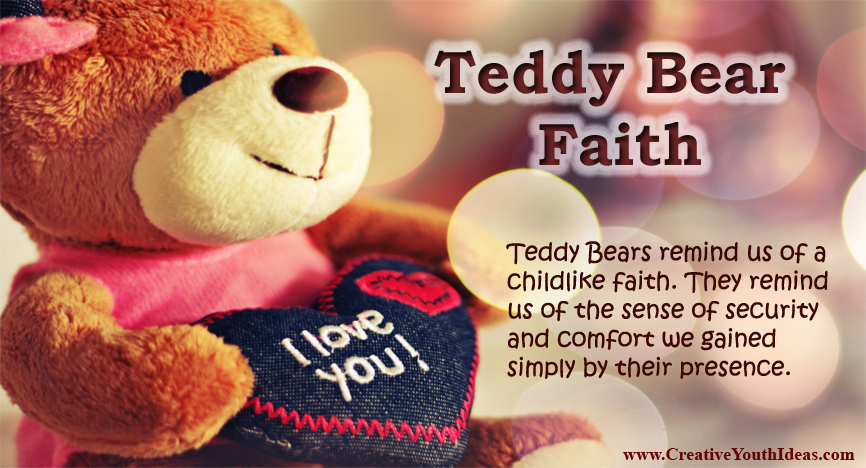 When you were younger did you have a teddy bear or another cherished possession? Did you hold it, talk to it, hug it close? Did it comfort you, give you courage? If you couldn't find it, did you turn everything upside down looking for it? Teddy Bears remind us of a childlike faith. They remind us of the sense of security and comfort we gained simply by their presence. God loves us more than any beloved Child's possession. And His constant companionship reminds us of the comfort, the security, and love that can only be found in Him.
PLEASE SHARE THIS IDEA ON FACEBOOK – CLICK HERE
The Story of the Teddy Bear
In 1902, Theodore Roosevelt, the President of the United States, went hunting in the woods but didn't kill anything. Before he left, one of his aides found a lost bear cub and offered it to him. But Roosevelt refused to shoot the bear, saying it would be unsporting. The next day a cartoon depicting the president having mercy on the cub appeared in newspapers across the US. A New York candy shop owner, Morris Mitchtom, saw the cartoon, asked his wife to make a toy bear to put in the shop window alongside the cartoon, and gave him a name: "Teddy's Bear". Mrs Mitchtom's bear proved so popular that within a year she and her husband closed the candy shop and founded the Ideal Novelty and Toy Company, now one of the biggest in the world.
Games using Teddy Bears and Stuffed Animals
Note: Get teddy bears and stuffed animals cheaply at the nearest Goodwill or Salvation Army store. You can always donate them to a children's charity or back to where you got them after your event. Giant stuffed animals and bears increase the level of fun!
Back to Back Bear Race – Split the youth up into partners however many as necessary. The players have to put a teddy bear between both of their backs and walk to the finish line and back to the team. First team to finish wins. You can make it more difficult by making it an obstacle course rather than a simple race. If the bear is dropped they must return to their team and begin again.
Hot Teddy Bear Attack – This is a variation on the old "Hot Potato" game. Give each youth one of the animals and have them stand in a circle. One or more Teddy Bears are the hot potato. Use more than one if you have a large group. While the music is playing, the youth must pass the stuffed animals in one direction around the circle as fast as they can. When the music stops, the people who are left holding the Teddy Bears are out. All of the rest of the people at that time get to attack the ones who are out with their animals by hurling them at high velocities. (Make sure the animals have no hard eyes etc so that no one get's hurt) Once everyone who is still in picks up an animals, start over again. Make sure you include the Teddy Bears back in the game for each round.
Stuffed Animal Charades – Place a variety of stuffed animals in a box or king-sized pillow case. As each player takes their turn, in another room or away from all the other players, he or she blindly reaches into the box or pillow case and takes out a stuffed animal. The player acts out the animal while the other players try to guess what animal is being portrayed.
Stuffed Animal Personalities – Place a large collection of stuffed animals in the center of the youth group. Begin the conversation by asking your participants to share with you personality traits of each animal. During the discussion ask the participants to be thinking about which animal reflects some traits of their own personalities.
Teddy Bear Dodge Ball – Play a traditional game of dodge ball, but with Teddy Bears.
Teddy Bear Flag Football – In flag football, instead of tackling, you pull the flag from a person's pocket. A flag can be a piece of cloth or a bandana. If your youth don't have pockets, you can also attach a strip of cloth to a clothespin and it can easily be inned to a shirt tail. You'll need a room large enough for running and passing. Place goal posts made from crepe paper on opposite walls. Field goals are awarded if the bear hits the wall inside the goal posts. You can use masking tape or crepe paper for goal line markers as well. You may want to include a girls-only quarter, follow boys-only quarter.
Teddy Bear Hat Trick – Position teddy bears or stuffed animals of various sizes and point values on the other side of a starting line. Teams toss a hat onto the targets. Team with the most points wins.
Teddy Bear Pass – Played just like Hot Potato, youth must pass a teddy bear around the circle when the music starts. When it stops whoever is holding it is eliminated.
Teddy Bear Pinata – Get a Pinata in the shape of a teddy bear and tie it to a rope that is hung between two trees. Youth are blindfolded, given a plastic baseball bat, and get three swings to break the pinata.
Teddy Bear Rescue – All youth stand around a blanket holding an edge. When you toss individual bears high into the air, the youth must try to catch the bear in the blanket.
Teddy Bear Targets – Position baskets or rings of various sizes and point values on the other side of a starting line. Teams toss stuffed animals or teddy bears into the targets for points. Team with the most points wins.
Teddy Bear Toss – Divide the youth into pairs. Each pair is a team. The winning team is the team who can throw and catch their bear over the greatest distance. Giant Bears make the game much more fun! Have participants start 10 metres apart. After each throw each member will move further apart. The team members alternate their throwing and catching roles after each throw. A bear catcher may not move from his/her starting position until the bear to be caught is in the air en route to that catcher. The pair that manages a successful toss of the greatest distance is judged to be the winner.
Teddy Bear Volleyball – Divide into teams of two, each person holding a towel at the corners. Teams stand on opposite sides of a volleyball net or some kind of divider. Each team must use the towel to toss a bear back and forth with another team. Continue playing until the bear is missed and a point is scored. You can play according to traditional volleyball rules on serving and scoring.
That's My Teddy – Ask each youth to bring a teddy bear or stuffed animal to the party. (At the end you can even donate some of them to a needy children) At one point, put all of the stuffed animals into a pile and bring in each youth one-by-one and blindfolded to identify his/her stuffed animal from the pile, using only the way it feels as a guide.
Ultimate Bear – Play like this like Ultimate Frisbee but replace the frisbee with a bear. Form two teams. Players must move the bear by tossing it from one player to another until the bear can be passed and caught across the goal line. You cannot run with the bear and must plant one foot and pivot when you are holding it. If the teddy bear is intercepted or falls to the ground, the other team takes possession.
Warp Speed Teddy – Arrange participants in a circle, not too close, not too far from one another. Toss a teddy bear to someone else in the circle. If you receive it, toss it to someone else in the circle not immediately on either side of you. That person will toss it to another person who has not yet received it and again not immediately on either side of him or her. Once you have received the bear and passed it on to someone else, put your hands down to your side to indicate you have already received it. Throwing continues until the last person tosses the ball back to the first person. They must remember who they tossed to because they will try to recreate the pattern in the next run, only faster.
TAKE IT TO THE NEXT LEVEL
MAKE IT SPIRITUAL – Lessons from Teddy Bears
1. Love
God Loves you more than a Teddy Bear – When you were younger did you have a teddy bear or another cherished possession? Did you hold it, talk to it, hug it close? Did it comfort you, give you courage? If you couldn't find it, did you turn everything upside down looking for it? You loved it in precious, innocent way that a five-year-old loves things? You always wanted it with you. God loves you far more than you ever loved your teddy bear. God has so much more love for us than we could ever imagine. In fact, he loved us so much he gave himself for us, to pay our debt of sin, by dying in our place that we might live with him in heaven. As we have grown out love has grown as well. But the truth is we can never love more than God.
MAKE IT PRACTICAL
In what ways do we underestimate God's love for us? Why?
In what ways does God show his love for us?
How should we respond to God's love for us?
Explain, "We love God, because he first loved us" 1 John 4:19
What lessons about love can we learn from 1 John 4:7-21?
2. Value
The Bear's value wasn't based on its cost. In fact, you probably had no idea of the cost of the bear. It may have cost very little, but in your eyes it had great value. It's value was not based upon what it was made of, how nice it looked, or how what it cost to make it. It's value was based on how much you as a child cherished it and loved it, how dear it was to you. You loved it because it was yours. In fact, in time the bear probably lost a lot of fur, became tattered, dirty, and maybe even started to fall apart. But you loved it all the same. The same is true of you. God loves you and your worth is found in how dear you are to him. He made you, he bought you, and he loves you. Sometimes your life may become a little tattered, dirty, and even seem to be falling apart. But God loves you even more than you loved your teddy bear. To the world you may seem insignificant, worthless, falling apart, but to God you are everything, you are cherished, you are loved, simply because you are his.
MAKE IT PRACTICAL
How do you decide if something is valuable?
What decides the value of something?
How valuable are you to God? What was he willing to pay for you?
How does knowing that God CHOSE you make you feel?
How can realising God's value for you and the price he paid for you motivate your life?
3. Comfort and Security
As children, a Teddy Bear gives us comfort and security. It is a constant companion. We cling to it in times of fear. We cherish it, and give it a special place in our lives. But as we grow older, our simple faith matures and the comfort and security is found in parents. But soon we also must move beyond that and we realise we can only find true comfort and security in God. True security and comfort can only come from our relationship with Him.
MAKE IT PRACTICAL
When are times that Jesus can be a comfort to us?
How can we be a comfort to others?
What comforts you and gives you security?
Why are we safe in God's hands?
How can knowing that God is always there for us help us to live a better life?
MAKE IT PERSONAL
How can you rest in God's Love? His Comfort? His security?
Knowing that you are precious and valuable to God, what does this knowledge motivate you to do this week?
————————————————
SCRIPTURE VERSES
————————————————
2 Corinthians 1:3-4 – "Praise be to the God and Father of our Lord Jesus Christ, the Father of compassion and the God of all comfort, who comforts us in all our troubles, so that we can comfort those in any trouble with the comfort we ourselves receive from God."
Psalm 62:1-2 – "My soul finds rest in God alone; my salvation comes from him. He alone is my rock and my salvation; he is my fortress, I will never be shaken."
Psalm 112:8 – "His heart is secure, he will have no fear."
Psalm 16:5 – "LORD, you have assigned me my portion and my cup; You have made my lot secure."
Isaiah 41:10 – "So do not fear, for I am with you; do not be dismayed, for I am your God. I will strengthen you and help you; I will uphold you with my righteous right hand."
Romans 8:15-16 – "For you did not receive a spirit that makes you a slave again to fear, but you received the Spirit of sonship. And by Him we cry, "Abba, Father." The Spirit Himself testifies with our spirit that we are God's children."
Ephesians 1:4-8 – "For He chose us in Him before the creation of the world to be holy and blameless in His sight. In love He predestined us to be adopted as His sons through Jesus Christ, in accordance with His pleasure and will– to the praise of His glorious grace, which He has freely given us in the One He loves. In Him we have redemption through His blood, the forgiveness of sins, in accordance with the riches of God's grace that He lavished on us with all wisdom and understanding."
Hebrews 13:5 – "Never will I leave you; never will I forsake you."
See also PSALM 91:1-16
PLEASE SHARE THIS IDEA ON FACEBOOK – CLICK HERE


MORE IDEAS? See "Creative Object Lessons"
200 page e-book that explains everything you need to know when planning your very own object lessons. It contains 90 fully developed object lesson ideas and another 200 object lesson starter ideas based on Biblical idioms and Names / Descriptions of God.


| | |
| --- | --- |
| | Rate This Post by Clicking the Stars : |