Game Description
This Thanksgiving Party game can be used with small or large groups. The key objective is to remember a long and growing list of Thanksgiving related items.
Game Materials
No materials required.
Game Preparation
Choose a phrase for the youth to complete…
"This thanksgiving, I am thankful for…."
While the applications would not apply, you could also use:
"At Thanksgiving Dinner, I ate…"
"My favorite thing about Thanksgiving is…"
Game Play
Sit everyone in a circle. (You can also play this as a family around the Thanksgiving Dinner table)
Start the game by saying, the chosen phrase (i.e. "This Thanksgiving I am thankful for….") then add something you are thankful for… (i.e. "my health")
The next player must repeat what is said and then add something they are thankful for. (This Thanksgiving I am thankful for my health and my parents.")
Each player in sequence must repeat the previous responses in the exact same order then add one of their own.
Players cannot add something that is already mentioned in the list.
If a player makes a mistake, he or she is eliminated from the game
The game continues around the circle until only 1 person is left.
Variation
When someone makes a mistake, you can choose to start over with a new list of items or continue around the circle with the same list.
Take it to the Next Level
What it easy or difficult to think of new things you were thankful for?
Were there some things mentioned by people that were a surprise to you?
Were there things in the list that were mentioned by other people, but that you were NOT thankful for?
If you played this game every day, do you think your answers would change?
If you played this game every day, do you think your life would be different? Your perspective?
Take it Spiritual
Why is an attitude of gratefulness, of thankfulness important?
How does an attitude of Thankfulness change us? What effect does it have on the way we approach life and other people?
How can you cultivate the habit of being thankful in your own life?
Looking for some icebreakers that also lead into great discussions and "take things to the next level"? My eBook, "IceBreakers Ahead: Take It to the Next Level" found at http://www.creativeicebreakers.com not only provides 52 of the most world's popular group icebreaker activities, but also includes life changing lesson ideas and questions to smoothly transition into discussions about issues common to most groups.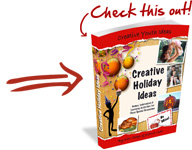 Holiday Collection


Games and Activities in Celebration of common Holidays.
Creative Holiday Ideas has over 300 pages of ideas to help you plan your next New Year's Day, Valentine's Day, Mother's Day, Father's Day, Halloween or Fall Festival, and Thanksgiving event. If you've ever wondered what you're going to do for all these holidays and how you're going to do it, this resource is for you.
=> Tell me more about the Holiday Collection


| | |
| --- | --- |
| | Rate This Post by Clicking the Stars : |