PARTY TIME
Get about 30 people to wait in your living room. When trick-or-treaters come to the door, say, "Come in." When they do, have everyone yell, "Surprise!!!" Act like it's a surprise party.
TIME TO FIX IT
Get everyone who comes to the door to come in and see if they can figure out what's wrong with your dishwasher. Insist that it makes an unnatural "whirring" sound.
SO WHO's PAYING FOR IT
After you give them candy, hand the trick-or-treaters a bill.
MARINE STYLE
Insist that the trick-or-treaters each do ten push-ups before you give them any candy.
THE WAITER
Hand out menus to the trick-or-treaters and let them order their candy. Keep asking if anyone wants to see the entrée menu.
THE DENTIST
Answer the door dressed as a dentist. Angrily give the trick-or-treaters a two-hour lecture on tooth decay.
THE PILGRIM
Answer the door dressed as a pilgrim. Stare at the trick-or-treaters for a moment, pretend to be confused, and start flipping through a calendar.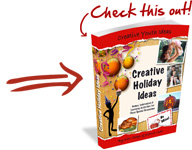 Holiday Collection


Games and Activities in Celebration of common Holidays.
Creative Holiday Ideas has over 300 pages of ideas to help you plan your next New Year's Day, Valentine's Day, Mother's Day, Father's Day, Halloween or Fall Festival, and Thanksgiving event. If you've ever wondered what you're going to do for all these holidays and how you're going to do it, this resource is for you.
=> Tell me more about the Holiday Collection


| | |
| --- | --- |
| | Rate This Post by Clicking the Stars : |