A box of Valentine's chocolates, clumsily rearranged in an attempt to hide the fact you ate all the caramel ones.
Any food item with the words "diet", "light", or "high fiber" on the label.
Flowers from a hospital's gift shop–or worse, a mortuary's.
Love poetry, no matter how heartfelt, that starts out "There was once a girl from Nantucket…"
Anything you ever gave another woman, including your mother.
Any clothing item with the words "push-up" or "slim-down" on the label.
Any household appliance, or power tool
A gift certificate.
Cash.
Lingerie that you think will look almost as good on her as on the Victoria's Secret model.
Anything you could have bought at the gas station mini-mart on the way over, even if you didn't.
An apologetic look and the words "Valentine's Day was today?"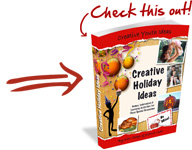 Holiday Collection


Games and Activities in Celebration of common Holidays.
Creative Holiday Ideas has over 300 pages of ideas to help you plan your next New Year's Day, Valentine's Day, Mother's Day, Father's Day, Halloween or Fall Festival, and Thanksgiving event. If you've ever wondered what you're going to do for all these holidays and how you're going to do it, this resource is for you.
=> Tell me more about the Holiday Collection


| | |
| --- | --- |
| | Rate This Post by Clicking the Stars : |