Tips for using Stories.
Don't tell a story without practice.
Do not analyze the story. Let the story speak for itself.
Don't make it a sermon. Stories enhance sermons; sermons do not enhance stories.
Keep it vivid. Use words that paint mental pictures.
Make sure it is appropriate. Age group and context are important considerations.
Visualize the story. Rather than memorize, visualize. See the story in your mind's eye.
Consider student vocabulary level.
Beware of tangents. tangents tend to confuse.
Avoid too many details. Excessive detail also tends to confuse.
Don't show and tell. Use props sparingly Let your words do the communicating.
Resist asking for feedback. Let the story simmer in your listeners' minds.
Do not illustrate a story. Stories within stories may work in writing but not in teaching.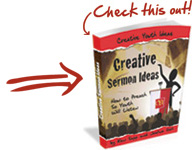 Get Help on Your Youth Sermons
Creative Sermon Ideas
This 100 Page e-Book Includes All The Help You Need To Prepare Powerful, Life-Changing Youth Sermons That Will Turn Your Preaching Around And Make Your Youth Sit Up And Listen! Includes 7 Complete Sermons.
=> I want More Youth Sermon Ideas…


| | |
| --- | --- |
| | Rate This Post by Clicking the Stars : |