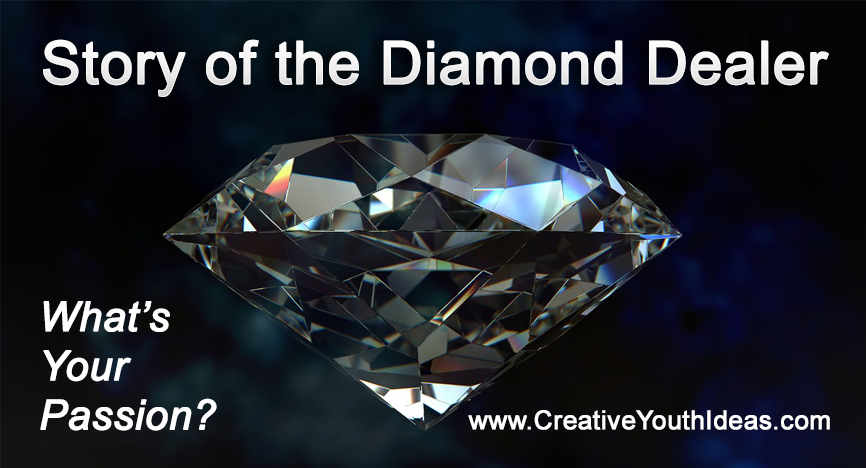 A story illustrating the difference between knowing something and having passion about something.
Winston was a famous New York diamond dealer. He arranged a meeting with a merchant who wanted to add a unique diamond to his collection.
"I have the perfect diamond for you. Please come see me. I am sure this diamond is exactly what you are looking for."
The collector flew to New York and Winston assigned a salesman to meet him and show him the diamond. When the salesman presented the diamond to the merchant he described the expensive stone by pointing out all its fine technical features. The merchant listened and praised the stone but turned away and said, "It's a wonderful stone but not exactly what I wanted."
Winston, who had been watching the presentation from a distance, stopped the merchant and asked, "Do you mind if I show you the diamond once again?" The merchant agreed and Winston presented the same stone. But, instead of talking about the technical features of the stone, Winston spoke spontaneously about his own genuine admiration of the diamond and what a rare thing of beauty it was. Abruptly, the customer changed his mind and bought the diamond.
While he was waiting for the diamond to be packaged and brought to him, the merchant turned to Winston and asked, "Why did I buy it from you when I had no difficulty saying no to your salesman?"
Winston replied, "The salesman is one of the best in the business and he knows more about diamonds than I do. I pay him a good salary for what he knows. But I would gladly pay him twice as much, if I could put into him something I have and he lacks. You see, he knows diamonds, but I love them."
"Don't ask yourself what the world needs; ask yourself what makes you come alive. And then go and do that. Because what the world needs is people who have come alive."
— Howard Thurman, Author and Philosopher
Do we simply know God, or do we love God? Is God our Passion?
Scriptures on Passion for God
Matthew 22:37 – And he said to him, "You shall love the Lord your God with all your heart and with all your soul and with all your mind."
1 Corinthians 8:3 – But if anyone loves God, he is known by God.
Revelation 2:4 – I have this against you, that you have abandoned the love you had at first.
Luke 10:38-42 – Now as they went on their way, Jesus entered a village. And a woman named Martha welcomed him into her house. And she had a sister called Mary, who sat at the Lord's feet and listened to his teaching. But Martha was distracted with much serving. And she went up to him and said, "Lord, do you not care that my sister has left me to serve alone? Tell her then to help me." But the Lord answered her, "Martha, Martha, you are anxious and troubled about many things, but one thing is necessary. Mary has chosen the good portion, which will not be taken away from her."
Mark 12:29-34 – Jesus answered, "The most important is, 'Hear, O Israel: The Lord our God, the Lord is one. And you shall love the Lord your God with all your heart and with all your soul and with all your mind and with all your strength.' The second is this: 'You shall love your neighbor as yourself.' There is no other commandment greater than these." And the scribe said to him, "You are right, Teacher. You have truly said that he is one, and there is no other besides him. And to love him with all the heart and with all the understanding and with all the strength, and to love one's neighbor as oneself, is much more than all whole burnt offerings and sacrifices."

| | |
| --- | --- |
| | Rate This Post by Clicking the Stars : |