Theme
When the light of Jesus, shining through us flickers and goes out because of sin in our life, Jesus' death can restore that light.
Materials
One pumpkin, ready to carve, sharp knife, candle for inside of pumpkin, matches
Procedure
Have children offer their suggestions on how to carve a face in the pumpkin. Proceed to carve a mouth, nose, and two eyes. Insert the candle and light.
Story
"Now let's pretend that this pumpkin is one of our friends. Let's name him Peter Pumpkin. Pete Pumpkin is in (pick a grade or class that matches your group) like us."
Peter woke up one morning bright and happy and ready for the day. His light was shining and he felt good. Let's see what happens Peter's day.
"Oh, Peter!" cried his mother, "Did you remember to brush your teeth this morning?" "Yes, Mother," Peter lied. He really hadn't brushed his teeth, but if he stopped to do it now, he'd be late for school! So Peter lied. Peter's mouth wasn't shining quite so brightly any more. (Put the mouth piece from the pumpkin back in the mouth hole)
So Peter went on his way to school. He felt kind of bad lying to his mother, but he wasn't going to let it spoil his day. When he got to school, some of his friends were playing with the toys already. Peter went over, too, but they had already started using the ones he wanted. (you can adapt this to be art supplies or whatever matches your group) Peter wanted the toys too. When one of the boys left, to go talk to his teacher, Peter took the toy. Oops, there goes part of Peter's happy face. (insert eye piece)
Continue with similar stories for the remaining parts of the pumpkin face, each time, inserting another piece until the whole face is back in place. Watch what happens to the light.
"Peter's light has gone out. His face is all dark and sad now."
(Relate this to sin in our lives.)
"There is a way for Peter's face to get bright and happy again. It's the same way that our sin can get taken care of. Do you know who helps our sin?"
With the answer of "Jesus" –carve a cross into the other side of the pumpkin. Pop out the face pieces again, and light the candle.
"With Jesus in your life, your light will never go out. The Bible tells us that Jesus is our light and that when He shines through us, our sins are forgiven and His love shines through instead!"
Relate how we may still sin (at this point put the pieces back into the face, except the cross) but with Jesus, the light will not go out–He is with us always!
Use your "Christian Jack-O-Lantern" at home and shine the cross out the window on October 31st. A witness for all the passers-by!
(originally from *Karen Schuster, Redeemer Lutheran–Flint, MI)
Source: http://www.sunday-school-lessons.com/pumpkin.html
Looking for some icebreakers for your party or event? My eBook, "IceBreakers Ahead: Take It to the Next Level" found at http://www.creativeicebreakers.com
not only provides 52 of the most world's popular group icebreaker activities, but also includes life changing lesson ideas and questions to smoothly transition into discussions about issues common to most groups.


MORE IDEAS? See "Creative Object Lessons"
200 page e-book that explains everything you need to know when planning your very own object lessons. It contains 90 fully developed object lesson ideas and another 200 object lesson starter ideas based on Biblical idioms and Names / Descriptions of God.
Learn More…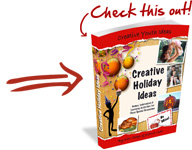 Holiday Collection


Games and Activities in Celebration of common Holidays.
Creative Holiday Ideas has over 300 pages of ideas to help you plan your next New Year's Day, Valentine's Day, Mother's Day, Father's Day, Halloween or Fall Festival, and Thanksgiving event. If you've ever wondered what you're going to do for all these holidays and how you're going to do it, this resource is for you.
=> Tell me more about the Holiday Collection


| | |
| --- | --- |
| | Rate This Post by Clicking the Stars : |