The markings on a sand dollar represent aspects of Christ's birth and death.
1. The five-point outline on the front of the sand dollar represents the star of Bethlehem.
2. The five holes in the sand dollar represent the pierced hands, feet, and side of Christ.
3. When the sand dollar is opened, it yields five small objects that look remarkably like doves in flight, thus representing the Holy Spirit.


MORE IDEAS? See "Creative Object Lessons"
200 page e-book that explains everything you need to know when planning your very own object lessons. It contains 90 fully developed object lesson ideas and another 200 object lesson starter ideas based on Biblical idioms and Names / Descriptions of God.
Learn More…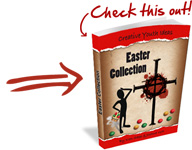 Easter Collection


Games and Activities in celebration of Easter.
Get more than 80 creative ideas for planning a Youth Easter celebration or Easter Party. You can immediately download my best Easter Icebreakers, games, illustrations, Easter activity ideas AND MUCH MORE in a useful ebook!
=> Tell me more about the Easter Collection


| | |
| --- | --- |
| | Rate This Post by Clicking the Stars : |