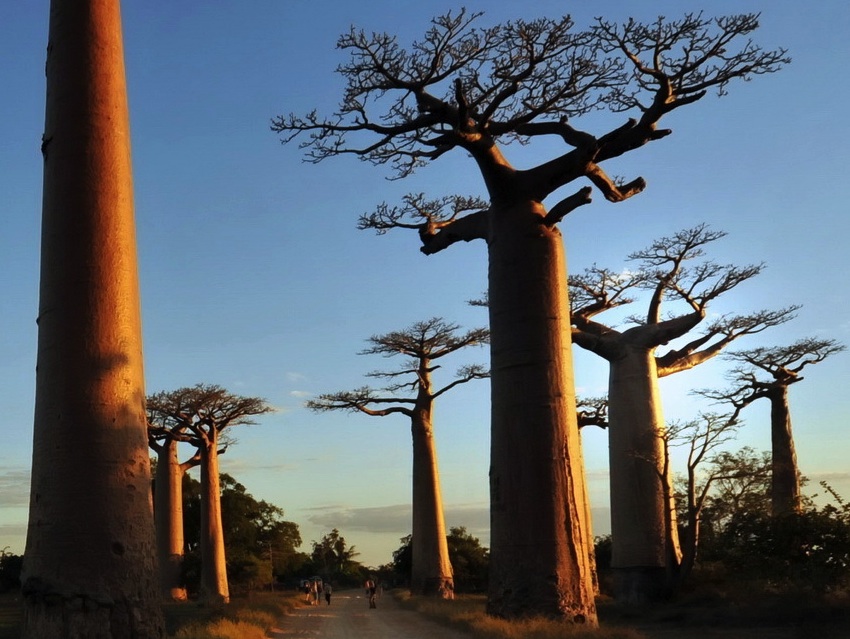 We don't always get what we want in life. We sometimes wish we were taller, smarter, more beautiful, healthier, richer, or thinner. Things might not go the way we planned – we could be cut down in our jobs, blown over by situations, our lives turned upside-down.
Like the Baobab tree…
One of the most amazing and stunning trees that grow on earth is the Baobab tree. Native to mainland Africa, the island of Madagascar, and Australia, these striking trees can have a trunk diameter of between 7 and 11 meters and grow 5 to 30 meters in height. Some people call the Baobab the 'upside-down tree' as the branches of some Baobabs resemble roots.
Legends describe the Baobab as among the first trees to appear on the land. When it saw the height of the palm tree, it cried out to the gods to be taller; when it saw the red flowers of the flame tree, it was envious for flower blossoms; when it saw the fig tree with its delicious fruit, it too prayed for fruit as well. The gods became angry with the tree, pulled it up by its roots, then replanted it upside down to keep it quiet.
The Baobab looks like this for a reason. In the wet months water is stored in its thick, fire-resistant trunk – up to 120,000 litres – for the nine dry months ahead. Some trees are believed to be thousands of years old.
Besides being traditionally tapped for its water; every other part is used. The bark is used for cloth, rope, dye, used to treat fever and protect against malaria. The leaves are used in soup and medicines. The fruit is nutritious to eat and high in vitamin C and calcium and eaten to protect against illness. Sometimes people even live inside of the huge trunks.
Many references mention the exceptional resilience of this tree, noting that even after the entire tree is cut down or blown over in storms, it simply resprouts from the root and continues to grow.
Take It to the Next Level
James 1:2-4 says, "Consider it pure joy, my brothers and sisters, whenever you face trials of many kinds, because you know that the testing of your faith produces perseverance. Let perseverance finish its work so that you may be mature and complete, not lacking anything."
We often wonder why we have to face trials. If God was really good, why not spare us the pain and agony of having to go through difficult and sometimes traumatic experiences? We are often misguided to think that the victorious Christian life will be hassle-free and once we accept Christ as our Lord and live according to his ways, nothing bad will happen to us.
What we don't realize is that abundant life God promises comes through maturity. If we never grow to full maturity, how can we expect to enjoy God's plan and purposes for us? And how do we become mature? Through trials.
It is in trials that we develop our trust and faith in God. The strength to persevere. It is because God is good that he, like a loving parent, nurtures us. We learn to walk by stumbling, falling over, getting up and trying again. If God came by to pick us up every time we fell, we'd never learn to walk!
So the next time you face a harsh environment, a bully, get ridiculed for what you believe in, if your family isn't perfect (and whose is anyway), if When nothing seems to go our way, look up to the Baobab tree.
The life experiences we gain from struggling in the harsh environments we grow up in prepares us for spiritual maturity when the time is ripe. Not just for ourselves, but for the friends and loved ones that surround us.
While it's not the prettiest on the outside, it's magnificence comes from what it has on the inside. It is a life-giving tree, supporting people with the water it has stored, a source of nourishment and healing.
If your life is "upside-down," it's time to make it "tree-mendous"!
What Faith Can Do – Kutlass
Verse 1:
Everybody falls sometimes
Gotta find the strength to rise
From the ashes and make a new beginning
Anyone can feel the ache
You think its more than you can take
But you are stronger, stronger than you know
Don't you give up now
The sun will soon be shining
You gotta face the clouds
To find the silver lining
Chorus:
I've seen dreams that move the mountains
Hope that doesn't ever end
Even when the sky is falling
And I've seen miracles just happen
Silent prayers get answered
Broken hearts become brand new
That's what faith can do
Verse 2:
It doesn't matter what you've heard
Impossible is not a word
It's just a reason for someone not to try
Everybody's scared to death
When they decide to take that step
Out on the water
It'll be alright
Life is so much more
Than what your eyes are seeing
You will find your way
If you keep believing
Bridge:
Overcome the odds
You don't have a chance
(That's what faith can do)
When the world says you can't
It'll tell you that you can!

| | |
| --- | --- |
| | Rate This Post by Clicking the Stars : |