When communicating with your youth leaders, try to avoid the following:
By Passing
Different words have different meanings.  Make your communication idiot proof so that no one can misinterpret it.
Allness
We think we have said everything necessary after a few minutes. Always have a time for questions in order to check communication.
Guess Proneness
Beware assigning hidden deeper motives to things.
Hardening of the Categories
Beware over generalization, all teachers are alike, all _____ are alike, we need to recognize differences in people.
Either / Or Thinking
Beware of categorizing things into boxes (i.e. "churches are either X or Y.")
Blinderness
Like blinders on horses, sometimes we can only see one way to do something. We need examine other possibilities.
Thalamic Reaction
Think before you react.  Don't jump to conclusions.
Misuse of Small Talk
Do not give information through small talk.  It is not an effectivemeans to spread information as it may not be taken seriously
Misuse of Labels
Labels are dangerous as they have a connotation of permanence and of being true 100% of the time.  Neither is true.
Misuse of "And"
Beware adding responsibilities.. please do X
and
 Y.  "Additional"
responsibilities "multiply" the work.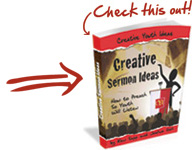 Get Help on Your Youth Sermons
Creative Sermon Ideas
This 100 Page e-Book Includes All The Help You Need To Prepare Powerful, Life-Changing Youth Sermons That Will Turn Your Preaching Around And Make Your Youth Sit Up And Listen! Includes 7 Complete Sermons.
–> I want More Youth Sermon Ideas…


| | |
| --- | --- |
| | Rate This Post by Clicking the Stars : |