YOUTH MINISTERS HAVE THEIR OWN VERSIONS OF MURPHY'S LAW-"IF ANYTHING CAN GO WRONG, IT WILL." I THINK YOU'LL RECOGNIZE YOUR FAVORITES, INCLUDING:
THE LAW OF LAST-MINUTE SUBTRACTIONS AND ADDITIONS 
Even though you've recruited the exact number of drivers you'll need for your upcoming youth trip, it's never enough. Five minutes before you're set to leave, a driver cancels (or the corollary-three unexpected kids show up).
MURPHY'S BUSTER: Use a signup sheet for the trip with an RSVP deadline and make no exceptions. It sounds harsh, but this is a great way for young people to learn responsibility. Ask a responsible volunteer or group leader to coordinate your transportation needs. Then make sure you have a back-up driver ready just in case.
THE LAW OF DIMINISHING GAS 
Even though your facilities manager swears he filled the tank yesterday, the gas gauge in the church van always reads empty when you're ready to leave.
MURPHY'S BUSTER: Inspect your vehicles the day before your trip or at least one hour before the kids show up. Make sure you have a church credit card or money for gas. And have a plan in case the vehicle breaks down while on the road
THE LAW OF FRUSTRATING PHOTOCOPIERS
Even though it was repaired last week, your photocopy machine will conk out five minutes before the meeting starts-and you still need 20 copies.
MURPHY'S BUSTER: Plan your schedule to prepare ahead of time so you can make your copies the day before the meeting
THE LAW OF VANISHING GUEST SPEAKERS 
Even though you've covered for yourself while you're on vacation, the guest speaker you lined up will not show.
MURPHY'S BUSTER: Have a Plan B always ready. Tell another staff member about your plan so he or she can step in if there's a last-minute cancellation
THE LAW OF EMBARRASSING DAMAGE
Even though you have seven cars hauling kids to the retreat, the one that gets "dinged" is the non-Christian parent's car.
MURPHY'S BUSTER: Before the trip, warn your parent volunteers about possible damage to their vehicles. Check your church's insurance policy to see if it might cover incidental damage. And when you plan a meeting at someone's home, ask to rearrange the meeting place to remove anything that might get damaged
THE LAW OF INEVITABLE TARDINESS
Even though you've screamed your departure time from the rooftops, you'll still pull out late because someone's late or forgot the permission slip.
MURPHY'S BUSTER: Make sure you're ready to leave on time. Many youth leaders model tardiness. Have a policy that you ll not wait for stragglers. Tell your group members to be on time or get left behind
THE LAW OF EMPTY COFFERS
Even though the church treasurer promised you an expense check before you leave, it's time to go and you still don't have it. Of' course, the treasurer isn't home and can't be located
MURPHY'S BUSTER: Ask the treasurer to give you the check in advance Even if you don't know the exact amount, let the treasurer decide how much to give you
Source Unknown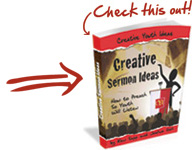 Get Help on Your Youth Sermons
Creative Sermon Ideas
This 100 Page e-Book Includes All The Help You Need To Prepare Powerful, Life-Changing Youth Sermons That Will Turn Your Preaching Around And Make Your Youth Sit Up And Listen! Includes 7 Complete Sermons.
–> I want More Youth Sermon Ideas…


| | |
| --- | --- |
| | Rate This Post by Clicking the Stars : |