At the start of 2011, I am always asking myself about being relevant to the youth of today. Society and culture is a moving target and if we are to be most effective as youth leaders we need to keep ourselves up to date on the issues that are faced by youth today. Even so I think there are some timeless general themes that every youth struggles with. Here are those on my list. Would love to hear your thoughts!
Ken
Identity – Who am I and why am I here? – Identity as Christians, as a disciple, as a denomination, in relationships to parents, others, etc.
Relationships – How should I interact with others? – relationship with God, with lost, with parents, with friends, with Christians, EQ, etc.
Discipleship – How do I live as a Christian? – Christian disciplines, following Christ, mentoring others, what is means to be a disciple
Decision Making – How should I choose? – Choices, temptation, God's will, self discipline, career
While these are general themes, what specific themes do you think we need to address with our youth in 2011?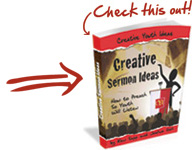 Get Help on Your Youth Sermons
Creative Sermon Ideas
This 100 Page e-Book Includes All The Help You Need To Prepare Powerful, Life-Changing Youth Sermons That Will Turn Your Preaching Around And Make Your Youth Sit Up And Listen! Includes 7 Complete Sermons.
–> I want More Youth Sermon Ideas…


| | |
| --- | --- |
| | Rate This Post by Clicking the Stars : |