Game Description
Gifts are a big part of Christmas. The greatest gift was God sending his Son. The wisemen brought gifts. In this game, youth go through the alphabet thanking God for the gifts he has given us either on a personal or corporate level. You could use this for a youth group, or for family activity.
Game Materials
None needed
Game Preparation
None
What to Do
Starting with the letter "A" youth progress through the letters of the alphabet naming gifts of God which begin with each letter. (e.g. I thank God for sending Angels to watch over us.)
The next person thanks God for "Angel" and then adds something that begins with the letter "B"
The game continues until the end of the alphabet or until the group gets stuck.
Variation
Instead of naming gifts youth are thankful for, youth can list things that are somehow related to Christmas.
Variation
Use this for Thanksgiving instead of Christmas.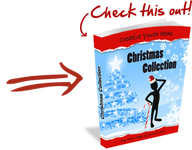 Christmas Collection


Games and Activities helping youth discover the Reason for the Season.
Get more than 200 creative ideas for planning a Youth Christmas celebration or Christmas Party party. You can immediately download my best Christmas Icebreakers, games, illustrations, Christmas activity ideas AND MUCH MORE in a useful ebook!
=> Tell me more about the Christmas Collection


| | |
| --- | --- |
| | Rate This Post by Clicking the Stars : |