Scripture: Revelation 22:13
As we look forward to the excitement of Christmas in a child's eyes, this is also a time to look back and reflect on the meaning of Christmas, as it has developed over the years.
I think Rev. 22:I3, some of the last words attributed to Jesus, seem to say it all. Before anything began,
Jesus was there. When everything ends, He will still be there.
This is true in your personal life.
In everything you begin and in everything you complete, be it successful, or in your eyes and others a failure, Jesus is there.
As a result of Christmas, so it is in our lives.
From your first breath to your last, Jesus is there and you are His. This is God's gift to you, which we call Christmas.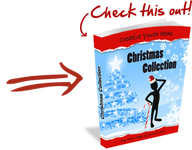 Christmas Collection


Games and Activities helping youth discover the Reason for the Season.
Get more than 200 creative ideas for planning a Youth Christmas celebration or Christmas Party party. You can immediately download my best Christmas Icebreakers, games, illustrations, Christmas activity ideas AND MUCH MORE in a useful ebook!
=> Tell me more about the Christmas Collection


| | |
| --- | --- |
| | Rate This Post by Clicking the Stars : |