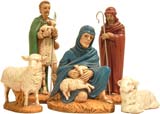 Description
You don't need to have an expensive budget to create costumes for the Christmas Play. With a few simple pieces of cloth and some imagination you can easily create costumes for shepherds, angels, wisemen, Mary and Joseph.
Creative Teaching Idea
Make costumes available for the Christmas Bible Study lesson and encourage youth to volunteer to read various parts and dress the part.
Christmas Costumes for Mary, Joseph, Shepherds
Collect Bathrobes, large towels, and sheets. They are available in a variety of colors and can stil be used after the Christmas play is over. Muted and earth tone colors are best. Have adults, youth, and children wear normal dark colored pants underneath and a plain white log-sleeved shirt then add layers. Just ensure the sostumes aren't too long so that people easily trip. For shoes, leather sandals or even everyday flat sandals can be used. Have some soft rope or scarfs to tie headbands and for use as belts. Keep costumes simple, as more than two layers will be too bulky and could be too hot as well. If you don't have any wooden shafts for a shepherd's staff, try using cardboard from the inside roll of Christmas wrapping paper and wrap it unevently in brown tape with lots of wrinkles in the tape.
Costumes for angels
Dress completely in white and add a gold scarf or sash and a halo formed from gold or silver pipe cleaners. You can add wings by bending wire coat hangers and covering them with white tissue paper or a thin gauze. Tape the two wings together and add circle of elastic at the topn and bottom of the wings to go around the houlder and waist.
Costumes for wisemen
These can be similar to those for Joseph and the shepherds, but stick to royal colors like blues, dark purples, gold and silver. Velvet is also an added touch. You can cut crowns from cardboard and cover them with glitter and plastic jewels. Goft wrap different size boxes in gold or silver as gifts from the wisemen.
Christmas Backdrops
Ask a furniture, or appliance store for old cardboard refrigerator boxes or toher large bozes used to ship furnature. Focus on shapes and silouettes rather than details when painting the cardboard with acrylic or tempra paints.
Have other ideas for simple low cost Christmas costumes, please add a comment and share them with others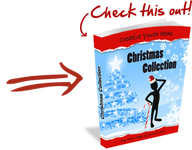 Christmas Collection


Games and Activities helping youth discover the Reason for the Season.
Get more than 200 creative ideas for planning a Youth Christmas celebration or Christmas Party party. You can immediately download my best Christmas Icebreakers, games, illustrations, Christmas activity ideas AND MUCH MORE in a useful ebook!
=> Tell me more about the Christmas Collection


| | |
| --- | --- |
| | Rate This Post by Clicking the Stars : |