How do we deal with fear? If you think about it, the Bible has quite a few scary stories suitable for any fright night. In this one, God takes Ezekiel to a valley filled with hundreds, maybe even thousands of dry human bones, they grow flesh and skin and then come back to life as a vast army. Zombie Apocalypse or an all powerful God who has power over life and death?
PLEASE SHARE THIS IDEA ON FACEBOOK
What You Need
No supplies are needed for this lesson, but if you want to decorate the meeting room with a lot of skeletons which are easy to find during the Halloween Season. Scatter them about the room and also bone shaped pieces of paper covering the floor.
Discussion Starters
Divide the groups into teams and ask them to make a list of everything that comes to mind when you think about Halloween?
Most of the things on the list are probably things that are scary or that are related to death.
What are some things you are afraid of?
What are some of the things that frighten you?
What to do
Turn off the lights and read this scary Bible story.
Read Ezekiel 37:1-10
If you think about it, the Bible has quite a few scary stories suitable for any fright night. In this one, God takes Ezekiel to a valley filled with hundreds, maybe even thousands of dry human bones. God tells Ezekiel to command the bones and the and suddenly the bones begin to move. The legs, arms, ribs, come together. They form skeletons. They grow new tendons and skin. And army of dead men rises up. Then God tells him to speak again and those bones, now covered in flesh, come back to life. Imagine how you would feel to simple stand in a valley filled with dry bones. How would you feel? Then to see them begin to grow flesh back on the bones, yet still be dead. Then come to life?
If we admit it, most of us would be pretty afraid.
COMMON FEARS
What are some other things that people are afraid of all year long?
There are hundreds of things that people are afraid of and there are even names for many of these fears. They are called phobias.
GAME #1
One fun idea is to have teams of youth write what they think the definition is. Then each team votes on the definitions. The team whose definition gets the most votes wins 1 point. Any team with the correct definition wins 2 points. Any team that votes on the correct definition gets 1 point.
Top 10 Fears
Arachnophobia – The fear of spiders.
Ophidiophobia – The fear of snakes.
Acrophobia – The fear of heights.
Agoraphobia – The fear of public places
Cynophobia – The fear of dogs.
Astraphobia – The fear of thunder and lightening.
Trypanophobia – The fear of injections.
Social Phobias – The fear of social situations.
Pteromerhanophobia – The fear of flying.
Mysophobia – The fear of germs or dirt.
Here's some others from the hundreds of fears
Demophobia – The fear of crowds.
Musophobia – The Fear of mice.
Arachibutyrobphobia – The fear of peanut butter sticking to the roof of your mouth.
Gephyrophobia – The fear of crossing a bridge.
Belonephobia – The fear of needles.
Claustrophobia – The fear of confinement in closed places.
Lyssophobia – The fear of insanity.
Hydrophobia – The fear of water.
Climacophobia – The fear of stairs, elevators, or escalators.
Ailurophobia – The fear of cats.
Hypengyophobia – The fear of responsibility.
Thalassophobia – The fear of the sea or ocean.
Panphobia – The fear of everything.
Game #2
Point to one side of the room as you call out each situation. Youth must go to the side which is MORE frightening to them.
A room full of spiders – or full of snakes
Stand on the edge of a cliff – or crawl through a dark narrow cave
Flying in a plane – or Crossing a bridge
Dogs – or Cats
Swimming in the Ocean – or taking the Elevator / escalator
Getting an injection – or going to the dentist
A white mouse – or blue cheese
Speaking in Public – or People speaking behind your back
Thunder and Lightning – or a completely dark night
Germs – or hospitals
Brussel Sprouts – Liver and onions
In a room with a wasp buzzing around – or eat a chocolate-covered ant.
Roller skate – or ice skate
Walk through a cemetery in the middle of the night – or ask someone for a date for the first time.
Take a difficult test – Witness to someone at school
TAKE IT TO THE NEXT LEVEL
Tell us about a time when you were the most afraid you have ever been?
What happened? What was the end of the story?
MAKE IT SPIRITUAL
But what does the Bible Say about Fear?
I've been told there are 365 "Fear Nots" in the Bible – one for each day of the year. Regardless of how many there are, it is obviously something that is common to all of us. That's why God mentions it so often.
Here are some Bible verses about fear. What lessons can we learn from them?
"So do not fear, for I am with you; do not be dismayed, for I am your God. I will strengthen you and help you; I will uphold you with my righteous right hand."
Isaiah 41:10
"For I am the LORD, your God, who takes hold of your right hand and says to you, Do not fear; I will help you."
Isaiah 41:13
"For you did not receive a spirit that makes you a slave again to fear, but you received the Spirit of sonship. And by him we cry, 'Abba, Father.'"
Romans 8:15
"Even though I walk through the valley of the shadow of death, I will fear no evil, for you are with me; your rod and your staff, they comfort me."
Psalm 23:4
"Keep your lives free from the love of money and be content with what you have, because God has said, 'Never will I leave you; never will I forsake you.' So we say with confidence, 'The Lord is my helper; I will not be afraid. What can mere mortals do to me?'"
Hebrews 13:5-6
"The LORD is my light and my salvation– whom shall I fear? The LORD is the stronghold of my life– of whom shall I be afraid?"
Psalm 27:1
"The LORD is with me; I will not be afraid. What can man do to me?"
Psalm 118:6
"Be strong and courageous. Do not be afraid or terrified because of them, for the LORD your God goes with you; he will never leave you nor forsake you." – Deuteronomy 31:6
"When I am afraid, I will trust in you. In God, whose word I praise, in God I trust; I will not be afraid. What can mortal man do to me?"
Psalm 56:3-4
"I sought the Lord, and he answered me; he delivered me from all my fears."
Psalm 34:4
"Do not be anxious about anything, but in everything, by prayer and petition, with thanksgiving, present your requests to God. And the peace of God which transcends all understanding, will guard your hearts and minds in Christ Jesus" Philippians 4:6-7
"And we know that in all things God works for the good of those who love him, who have been called according to his purpose."
Romans 8:28
What do you do when your fears seem to be stronger than your faith?
Have you ever allowed fear to stop you from doing something?
Are there any areas in your life that are being limited because of fear?
"I sought the Lord, and He heard me, and delivered me from all my fears"
Psalm 34:4
"Cast all your anxiety on him because he cares for you.
1 Peter 5:7
"Be still and know that I am God"
Psalm 46:10
"You are of God, little children, and have overcome them, because He who is in you is greater than he who is in the world" (1 John 4:4).
"When I am afraid, I put my trust in you."
Psalms 56:3
"Praise the LORD. Blessed is the man who fears the LORD, who finds great delight in his commands. He will have no fear of bad news; his heart is steadfast, trusting in the LORD. His heart is secure, he will have no fear; in the end he will look in triumph on his foes'
Psalm 112:1, 7-8
MAKE IT PRACTICAL
What understandings about fear do you get from these verses?
How can you deal with fear based on what you have learned?
MAKE IT PERSONAL
Have you ever been afraid to do something that God would want you do? Explain.
How can you live life more courageously for God, know what you have learned about fear?
How can you put these verses into practice?
PLEASE SHARE THIS IDEA ON FACEBOOK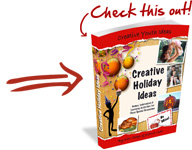 Creative Holiday Ideas


Games and Activities in Celebration of common Holidays.
Creative Holiday Ideas has over 300 pages of ideas to help you plan not only your next Fall Festival or Halloween Alternative event, but also most of the other common holidays. If you've ever wondered what you're going to do for the holidays and how you're going to do it, this resource is for you.
=> Tell me more about the Holiday Collection

| | |
| --- | --- |
| | Rate This Post by Clicking the Stars : |