As the streets get lit up, the sidewalks, shop windows, everything gets decorated with scenes of the nativity, we see it all around us, and these symbols carry deep meaning for us. But something we don't realize is how insignificant they were at the very first Christmas.
INSIGNIFICANT CHRISTMAS?
Resources
A list of 15-20 items that teens carry in their wallets, purses, or on themselves.
Some possible items for your list are: a black comb, facial tissue, a cross, five dollar bill, Bible, a book mark, foreign currency, lipstick, a note from a friend, white shoe string, 1 cent coin, an identity card, brown belt, safety pin, a ring, watch with a second hand, toothbrush, a friend's phone number, pen, fingernail file, a pencil, picture of dad, friendship bracelet, a blank piece of paper, student ID, blonde hair, credit card, mobile phone, a cosmetic mirror, etc.
Preparation
Divide youth into groups of 4-5 students
What to Do
Tell the groups that you are going to ask for an object.
Each group should present their object to you for a point.
Once they're back in their groups, they have to form these objects into some kind of representation of Christmas.
Have each group explain their representation.
Take It to the Next Level
Think about the small, insignificant things we see all around us at Christmas time, the sights, the sounds, the images. What are some of them you see?
Insignificant Places
Bethlehem
"But as for you, Bethlehem Ephrathah, TOO LITTLE to be among the clans of Judah, From you One will go forth for Me to be ruler in Israel. His goings forth are from long ago, From the days of eternity." (Micah 5:2 – Emphasis Mine) Bethlehem means "House of Bread." Ephrathah means "fruitful." It is fitting that the Messiah, the "Bread of life", the "fruitful vine" would be born there. It is the city of David, who was initially seen by his father Jesse as the most insignificant of his sons when presenting them to the prophet Samuel. Bethlehem was not the capital city. It was not a major trade center. It wasn't a center of attention. It was a small quiet town, an insignificant place until the Messiah came.
Nazareth
Nathanael asked of Nazareth, "Can anything good come from there?" (John 1:46) Joseph and Mary cam from Nazareth. It wasn't significant. It wasn't held in high regard as indicated by Nathaniel's statement.
Fields
The shepherd kept watch in the fields by night. It was pasture, farmland, a place to raise sheep. In fact, scripture says they were "living in the fields." It was not at a crossroads, in the public square, on the palace grounds that the Savior's arrival was announced, but in a field filled with more sheep than men.
A Stable
There was no room in the inn. No decent room. Not even a decent bed. Christ was not born in a palace or event a place created for men. It was a place for the animals, a stable. Instead of a bed, a feed trough.
Insignificant People
Shepherds
"In that region, there were shepherds living in the fields, keeping watch over their flock by night." (Luke 2:8) Shepherds were banished from the temple, indicating that in some way they were social outcasts who spent most of their lives not among men, but among sheep. As the shepherds tended their sheep they were simply going about their daily tasks. To the shepherds there was nothing significant about the night until the sky suddenly filled with a multitude of angels announcing "Unto you is born this day in the city of David, a Savior, Who is Christ the Lord."
The Innkeeper
He was so insignificant that his name was not even mentioned, yet he gave Mary and Joseph a stable that provided some shelter for the night.
Mary and Joseph
They were not well to do and traveled the long journey from Nazareth to pay their taxes. Too young to be married, but old enough to trust God at His word. Mary's words – "I am the Lord's servant. May it be to me as you have said".
From Insignificant to Significant
Christmas reminds us that any place can become special when God visits that place. That anyone can become important when God works through them. God specializes in making the small, the insignificant, the forgotten, and even the outcast significant in his plans. All he needs is a place, in your heart and in your life where ever you may be. When God is near, When God is with us, "Immanuel", the insignificant grows into significance because he fills the space given to Him.
Make it Personal
What are some of the possibilities for God to use you and where you are at now for his glory?
In what ways can you allow God to fill more of your life?
What things can you do to allow God to use you in a more significant way?
You are significant to God. How would your life change if you said to God like Mary? "I am the Lord's servant. May it be to me as you have said."
Scripture References
"Brothers, think of what you were when you were called. Not many of you were wise by human standards; not many were influential; not many were of noble birth. But God chose what is foolish in the world to shame the wise; God chose what is weak in the world to shame the strong; God chose what is low and despised in the world, even things that are not, to bring to nothing things that are, so that no human being might boast in the presence of God."
– 1 Corinthians 1:26-29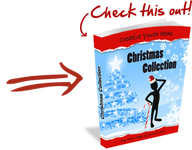 Creative Youth Ideas Christmas Collection


Games and Activities helping youth discover the Reason for the Season.
Get more than 200 creative ideas for planning a Youth Christmas celebration or Christmas Party party. You can immediately download my best Christmas Icebreakers, games, illustrations, Christmas activity ideas AND MUCH MORE in a useful ebook!
=> Tell me more about the Christmas Collection


| | |
| --- | --- |
| | Rate This Post by Clicking the Stars : |