Scripture: Micah 5:2,4-5
In Joshua I5, the cities of the land were divided among the tribes of Israel. Bethlehem, however, was too small and insignificant to be mentioned. Although it was "too little to be among the clans," God selected it to hold the honor of being the birthplace of the Messiah.
God demonstrates his use of the weak and foolish to be the source of his mightiest works. Great things do come in small packages.
Just as Bethlehem was considered insignificant, so perhaps did the people consider the infant Jesus as an unlikely candidate for the Messiah.
Yet, within the being of the gentle baby Jesus, resided the glory and majesty of the great Triune God.
The Word of God, in communion with the Father and the Spirit in eternity past, did not burst forth into history with great fanfare, but amidst the sounds of common animals in their stalls. And during that dark night a star shone overhead and guided the Wisemen to this newborn Savior.
We have only to remember that in the darkest night, there is a bright star, indeed the Morning Star, who pierces the darkness to say that "in the city of David there has been born for you a Savior, who is Christ the Lord."
A small start is often the crack of opportunity for the great and powerful God. Next time you think you are too small or insignificant for God to use you, remember Bethlehem. Remember that the Savior of the world came as a small child. Remember that in the darkest night the morning Star will be there to guide your way and include you in his plan!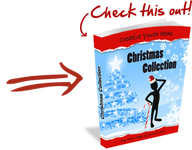 Christmas Collection


Games and Activities helping youth discover the Reason for the Season.
Get more than 200 creative ideas for planning a Youth Christmas celebration or Christmas Party party. You can immediately download my best Christmas Icebreakers, games, illustrations, Christmas activity ideas AND MUCH MORE in a useful ebook!
=> Tell me more about the Christmas Collection


| | |
| --- | --- |
| | Rate This Post by Clicking the Stars : |