Activities and Lessons for Thanksgiving
Thanksgiving Object Lesson – Ten Lepers – Use this Thanksgiving Children's sermon / Thanksgiving Object lesson to create a situation in the Sunday school classroom or Worship service to illustrate the story in Luke 17 of the healing of ten lepers and the ONE that return to Jesus and thanked him for what he had done.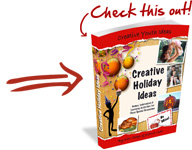 Holiday Collection


Games and Activities in Celebration of common Holidays.
Creative Holiday Ideas has over 300 pages of ideas to help you plan your next Thanksgiving event for your church youth. If you've ever wondered what you're going to do with your youth for upcoming holidays and how you're going to do it, this resource is for you.
=> Tell me more about the Holiday Collection


| | |
| --- | --- |
| | Rate This Post by Clicking the Stars : |