Stories, Quotes and Truths that reflect on the Meaning and History of Thanksgiving
Thanksgiving Proclamation (Abraham Lincoln) – A few powerful words from Abraham Lincoln who, in the midst of the Civil War, in 1863, established the annual celebration of Thanksgiving.
George Washington's 1789 Thanksgiving Proclamation – In 1789, The First American President, George Washingtom acknowledged the providence of Almighty God and gave thanks for God's Blessings and favor.
Remembering WellPersonal Thanksgiving Story from a friend that reflects the following quote: "As we express our gratitude, we must never forget that the highest appreciation is not to utter words, but to live by them." John Fitzgerald Kennedy
BlessingsDo we recognise the blessings around us all year round or just on Thanksgiving?
"To God be the Glory" is a great song that reminds us to be Thankful to God for the blessings in our lives.
Samuel Adams – Thanksgiving Proclamation – Samuel Adams on behalf of the Continental Congress, November 3, 1778, calling for a day of Thanksgiving during the Revolutionary War of the future "United States of America"
Around the Thanksgiving Table – This Thanksgiving illustration reminds us that God must be a priority in our lives.
Be Thankful – Find a way to be thankful for your troubles, and they can become your blessings.
Thanks, Forgiving Day Story by Bob Perks that reminds is that in some small way we could undermine all of the hate and anger in the world by humbly asking to be forgiven even when we have done nothing wrong.
Be Thankful for – Be thankful for those things that seem less than blessings
William Bradford on Thanksgiving – The first American Thanksgiving as told by William Bradford in 1621
Famous American Thanksgiving Quotes – Quotes from Famous Americans on Thanksgiving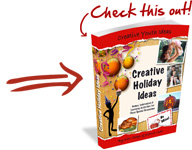 Holiday Collection


Games and Activities in Celebration of common Holidays.
Creative Holiday Ideas has over 300 pages of ideas to help you plan your next Thanksgiving event for your church youth. If you've ever wondered what you're going to do with your youth for upcoming holidays and how you're going to do it, this resource is for you.
=> Tell me more about the Holiday Collection


| | |
| --- | --- |
| | Rate This Post by Clicking the Stars : |