"Into thine hands, O Lord, I commend my spirit." (Lk 23:46)
It has been suggested that since the Lord's last words were "Father into thy hands I commend my spirit", His first words at the resurrection would have been a continuation of the Psalm 31:5 from which He had quoted: "Thou hast redeemed me, O Lord God of truth". But David didn't say Ps. 31:5 on his deathbed. They were not words of despair. It was not a final giving in after a time of struggle. Instead, it was an expression of David's desire to commit his soul to the Father in gratefulness and praise.
It's so difficult to place our lives into the hands of someone else. The apostles must have been quite disturbed to hear Jesus first words from the cross "My God, my God, why have you forsaken me?" (Mk 15:34). Those words, taken from Psalm 22, words begin with David's feelings of despair but end with words of thanksgiving for victory.
When Jesus said, "Father, into your hands," He knew He was in safe keeping because He was in His Father's hands. He knew God would never drop Him and He was safe and secure. Jesus speaking of us said, no man would be able to pluck us out of the hands of God. Paul said the same thing in 2 Timothy 1:12: "For the which cause I also suffer these things: nevertheless I am not ashamed: for I know whom I have believed, and am persuaded that he is able to keep that which I have committed unto him against that day."
We do not need to fear. We are in the hands of God. We must make the same journey from isolation and despair with God's seeming lack of help – "My God, my God, why have you forsaken me?" to commitment to allow God to finish his will in us – "Father, into your hands I commit my spirit".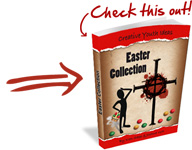 Easter Collection


Games and Activities in celebration of Easter.
Get more than 80 creative ideas for planning a Youth Easter celebration or Easter Party. You can immediately download my best Easter Icebreakers, games, illustrations, Easter activity ideas AND MUCH MORE in a useful ebook!
=> Tell me more about the Easter Collection


| | |
| --- | --- |
| | Rate This Post by Clicking the Stars : |