Christmas Game Description: This Christmas party game idea is played like the traditional game known as "Hot Potato". A candy cane is passed from person to person around the circle while someone plays Christmas music. The candy cane is passed to the youth right next to you who then passes the candy cane to the youth next to him or her. You can choose to play clockwise or counter clockwise. If you want to add a little more challenge to the game you can call out the word "CHANGE" from time to time and change the direction in which the candy cane is passed.
Things You'll Need:
Christmas music as well as someone to control the music
Two or more adults, youth, children – kids of all ages
One Christmas candy cane for each youth playing the game
How to Play
Gather all the youth in a circle, standing or sitting cross-legged. The youth should be arranged facing toward the center of the circle.
Explain the game rules to make sure all the youth understand. If you are playing with very young children, you might need to go over the rules several times to make sure they all understand. Have a practice round of the game with the children if that is necessary.
For younger children, you might want to ask them to name some things that are hot. Hand one of the children the candy cane, encouraging him or her to pretend that it is HOT and to catch and pass it on to the next child as quickly as they can.
To get the Christmas game started, say "Go!" and play the Christmas music. Youth begin to toss the candy cane around the circle to the youth next to them as quickly as possible.
When the Christmas music is paused, the youth holding the candy cane is eliminated from the game. Throwing the candy cane after the music stops does not count. But as a parting gift, the youth gets to keep the candy cane he or she was holding so that everyone is a winner in this Christmas game. The youth must then sit out of the game until everyone has a candy cane.
Continue starting and stopping the Christmas music until all but two are "out." Last youth to NOT be holding the candy cane when the music stops wins. You might want to have an additional Christmas prize for the last remaining youth.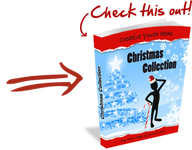 Christmas Collection


Games and Activities helping youth discover the Reason for the Season.
Get more than 200 creative ideas for planning a Youth Christmas celebration or Christmas Party party. You can immediately download my best Christmas Icebreakers, games, illustrations, Christmas activity ideas AND MUCH MORE in a useful ebook!
=> Tell me more about the Christmas Collection


| | |
| --- | --- |
| | Rate This Post by Clicking the Stars : |