The tale of the centurion

The sky was dark, gloomy, ominous.
A blackened canvas, awaiting a storm.
We had spit upon his face.
Blood and spit dripped down his body,
like rain off a tattered jacket.
He struggles to remain conscious,
His body is beaten, shredded, disfigured…
The braided whip, pieces of iron and stone, unleashed their fury.
Left behind–hanging skin, quivering ribbons of bleeding flesh.
His brow is punctured, dripping,
A pool of blood beneath him, a crown of thorns upon his head.
He stands and stumbles,
Dizzy in the center of the raging storm of hatred.
His eyes strain to focus, the blur of faces,
The jeering voices rising in thunderous commotion,
Cursing, mocking, taunting.
Seizing him, I spin him around and crack my fist upon his face.
Open wounds, stripped, naked, bleeding.
I push him to the rocky ground,
Stones embedding in his wounds…
I drag him, sideways to rough, splintered timbers,
His arms, stretched and held.
A spike at his wrist…
A hammer raised–Clank, Clank, Clank…
The timber raised, this man of Galilee upon it…
He had promised life, healed the wounded, took away pain,
But now, his life was draining, his body wounded, engulfed in pain.
Yet, with compassion in his eyes,
Not anger, not hatred, but compassion,
He looks…
He's looking at ME, his executioner…
As if waiting?
What to do?
To look away, or look at him.
"How can I, a Centurion, believe?"
"Come down off the cross if you're the Son of God!"
He still looks,
Compassionately, waiting,
What to do?
"Speak to me! Say something?"
…..Nothing…..
The crowd thins as the sky darkens,
"Come with us, don't waste your time!"
"He's no more God than you or I!"
I stand, speechless, agonizing…
…then…
As a child to his parent he says so tender,
"Father, into your hands my Spirit I give,"
And at that moment he is no longer.
The earth shakes, the thunder bellows,
"Run you fool, forget the wretch"
I can't, can't move, can't budge.
Fall to my knees,
"Surely, this MUST be the Son of God"
Copyright 1988 by Ken Sapp
Free for non commercial use.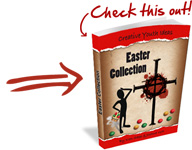 Easter Collection


Games and Activities in celebration of Easter.
Get more than 80 creative ideas for planning a Youth Easter celebration or Easter Party. You can immediately download my best Easter Icebreakers, games, illustrations, Easter activity ideas AND MUCH MORE in a useful ebook!
=> Tell me more about the Easter Collection


| | |
| --- | --- |
| | Rate This Post by Clicking the Stars : |