I'm skeptical of New Year's resolutions. They're too easy to make, rarely carried out, and often cover up what really needs to change. If we're honest, few of us really want things to be completely different. We just want life to get better, or easier. We can handle a tune-up or face-lift, but drastic change? Medication, yes; surgery, no. Reform, maybe; revolution, never.
Charles Moore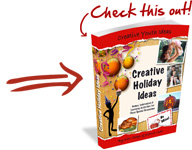 Holiday Collection


Games and Activities in Celebration of common Holidays.
Creative Holiday Ideas has over 300 pages of ideas to help you plan your next New Year's Day celebration as well as a variety of other familiar holidays. If you've ever wondered what you're going to do for various holidays and how you're going to do it, this resource is for you.
=> Tell me more about the Holiday Collection


| | |
| --- | --- |
| | Rate This Post by Clicking the Stars : |