Materials
A list of items commonly associated with New Years and large sheet of paper, flip chart, or a whiteboard for each team. Classified ads also work if you use a broad tip marker.
Activity
Each team selects a person to draw. The person leading the game shows all those who are drawing the first item on his list. Each returns to his/her group and tries to get the group to guess the name of the item by DRAWING ONLY. No Speaking, No sound effects, especially no humming, and no gestures are allowed. As soon as the group knows the item, they must write it down on a peice of paper for you to check. They send the peice of paper and a new person to you. If the item is correct you give the person the next item to draw. The first team to complete the entire list wins the game.
Here are some of the common New Year items
Champaign, cork, ginger ale, party poppers, a toast, clock, midnight, fireworks, streamers, calendar, resolution, noisemakers, party hats, confetti, balloons, time, year, party, health, happiness, prosperity, black-eyed peas, ham, cabbage, tamales, appetizers, Auld Lang Syne, Father Time, baby, firecrackers, January 1st, beginning, countdown, prayer, fasting, watchnight service, Times Square, Dropping of the Ball, church bells
Variation
Instead of items associated with the New Year, use events, movies, and highlights from the past year for items. These could be specific to your church or youth group, or general world events.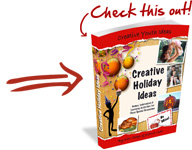 Holiday Collection


Games and Activities in Celebration of common Holidays.
Creative Holiday Ideas has over 300 pages of ideas to help you plan your next New Year's Day, Valentine's Day, Mother's Day, Father's Day, Halloween or Fall Festival, and Thanksgiving event. If you've ever wondered what you're going to do for all these holidays and how you're going to do it, this resource is for you.
=> Tell me more about the Holiday Collection


| | |
| --- | --- |
| | Rate This Post by Clicking the Stars : |