Have you ever wondered why the stone was rolled away?
It certainly wasn't so that Jesus could get out — Later when the disciples are in the upper room with the doors locked, Jesus simply appears in their presence.
The gospels tell us there was an earthquake and the stone rolled away – But I assure you that it wasn't for Jesus' benefit.
It was for ours.
It wasn't so Jesus could get out.
It was so Mary and others could get in
and see that Jesus was gone.
I wonder if there is a stone in your life that needs to be rolled away so that you can discover the resurrected Savior?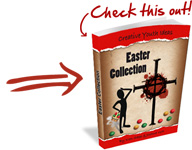 Easter Collection


Games and Activities in celebration of Easter.
Get more than 80 creative ideas for planning a Youth Easter celebration or Easter Party. You can immediately download my best Easter Icebreakers, games, illustrations, Easter activity ideas AND MUCH MORE in a useful ebook!
=> Tell me more about the Easter Collection


| | |
| --- | --- |
| | Rate This Post by Clicking the Stars : |