This game, based on the television show "Hollywood Squares" makes a great review activity after a lesson series has been taught! You can also use it with trivia questions and modern events as a fun activity for a game night or outreach activity! As an alternative to Halloween have a fall festival and have 9 Bible personalities dress up for this game!
Participants
One (1) Moderator or host
Two (2) contestants. The two contestants can be teams or individuals. One is assigned 'X' and the other is assigned 'O'
Nine (9) personalities – one for each square in a normal tic-tac-toe grid.
The 9 Personalities
If you want to make the game more interesting, ask important personalities in your church or members of your youth leadership team to participate. You can also have the 9 personalities dress up as famous Biblical characters and role play according to those characters. Adam, Eve, Moses, Jesus, Paul, Gideon, David, Elijah, Abraham… the possibilities are endless. If you are studying a book of the Bible and can select 9 personalities from that book it will be even more fun!
Preparation
Make namecard signs for each of your squares (make sure they're large enough for everyone to see) even if you're using real names.
Make nine signs (large enough for the audience to see) of an X on one side and an O on the other.
Make a list of questions related to your Bible passage or lesson. These should be facts or details that can be answered with a clear correct answer. You will need at least 20 questions for each round you intend to play.
You can give a copy of this list of questions to your nine personalities ahead of time and then have them choose to give a correct or wrong answer for each.
Time Required
One round of the game can take anywhere from 15-45 minutes (depending on the length of the answers given by each square). Choose the number of questions according to the desired time slot for the activity. It is better to have extra questions rather than not enough.
Setup
The seating arrangement for the 9 squares should be three rows of three as per a normal tic-tac-toe grid. A stadium seat or choir riser works great. You can also have the first row sitting on the floor, second row sitting in chairs and the top row on a stage or high stools! You will need to setup their chairs in a way that everyone can see them. You could also just arrange 9 chairs in a 3×3 grid on the floor, but move each row slightly over to the right or left so that you can see each square.
How to Play
The moderator / game show host should introduce each contestant or team as well as the 9 personalities. (You could also have the personalities introduce themselves)
The moderator should explain the rules so everyone knows how to play the game
The moderator tosses a coin to decide which participant will start the game.
The chosen participant must choose a square (personality)
Moderator then reads a random questions to the personality in the chosen SQUARE who must then answer the question.
The chosen personality provides an answer. A personality can answer correctly or with a bluff or false answer. He or she can explain the answer also if they wish and be humorous or serious! It is even more fun if personalities respond in character.
The contestant (or team) who picked the square THEN decides whether the answer provided is TRUE or FALSE. You can also use AGREE – DISAGREE.
If the contestant chooses correctly the personality in the selected square will show the corresponding X or O of the contestant's team.
If the contestant chooses incorrectly the square does NOT raise the contestant's sign. (For a quicker round you can play so that the opponent receives the square and his or her sign is displayed)
The first contestant to create a Tic-Tac-Toe (three x's or o's in a diagonal, horizontal, or vertical row) wins. If there is a tie (no tic-tac-toe) you can play a round of "Sudden Death" where each contestant picks a square who answers a question. The first contestant to wrongly choose a square's answer loses.
Have fun!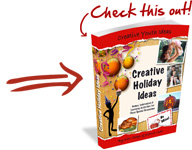 Holiday Collection


Games and Activities in Celebration of common Holidays.
Creative Holiday Ideas has over 300 pages of ideas to help you plan your next New Year's Day, Valentine's Day, Mother's Day, Father's Day, Halloween or Fall Festival, and Thanksgiving event. If you've ever wondered what you're going to do for all these holidays and how you're going to do it, this resource is for you.
=> Tell me more about the Holiday Collection


| | |
| --- | --- |
| | Rate This Post by Clicking the Stars : |