"It was early in the morning in another country. Exhausted, I awoke around 3. The name of someone I loved dearly flashed into my mind. It was like an electric shock. Instantly, I was wide awake. I knew there would be no more sleep for me the rest of the night. So I lay there and prayed for the one who was trying hard to run away from God. When it is dark and the imagination runs wild, there are fears that only a mother can understand.
Suddenly the Lord said to me, 'Quit studying the problems and start studying the promises.' Now, God has never spoken to me audibly, but there is no mistaking when He speaks.
So I turned on the light, got my Bible, and the first verse that came to me was Philippians 4:6: 'Be careful for nothing; but in every thing by prayer and supplication with thanksgiving let your requests be made known unto God' (italics mine). And verse 7, 'And the peace of God, which passeth all understanding, shall keep your hearts and minds through Christ Jesus.'
Suddenly I realized the missing ingredient in my prayers had been 'with thanksgiving.' So I put down my Bible and spent time worshiping Him for who He is and what He is. This covers more territory than any one mortal can comprehend. Even contemplating what little we do know dissolves doubts, reinforces faith and restores joy. I began to thank God for giving me this one I loved so dearly in the first place. I even thanked Him for the difficult spots which taught me so much.
And you know what happened? It was as if suddenly someone turned on the lights in my mind and heart, and the little fears and worries which, like mice and cockroaches, had been nibbling away in the darkness, suddenly scuttled for cover.
That was when I learned that worship and worry cannot live in the same heart."
Source: Ruth Bell Graham "It's My Turn"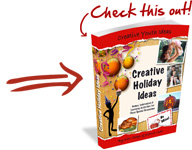 Holiday Collection


Games and Activities in Celebration of common Holidays.
Creative Holiday Ideas has over 300 pages of ideas to help you plan your next Thanksgiving event. If you've ever wondered what you're going to do for a variety of familiar holidays and how you're going to do it, this resource is for you.
=> Tell me more about the Holiday Collection


| | |
| --- | --- |
| | Rate This Post by Clicking the Stars : |