If you ask youth why they don't attend worship, there are four common reasons given.
The sermons are not seen as relevant to the lives of youth. 
As preachers of God's Word, we often take time to explain how God's Word relates to employees in the workplace, to parents in the family, and to lost people outside the church, but we rarely explain to youth how the Bible relates to their situations. It is natural because the majority of our congregation is comprised of adults. But we need to remember that youth also need to hear stories and illustrations of youth in real-life examples and applications of God's Word in the lives of other youth.
Youth often feel stereotyped.
When youth are mentioned by pastors or other worship leaders, too often it is with negative stereotypes of behavior that needs to be corrected rather than desired behavior that needs to be encouraged. In our sermons we need to balance correction and rebuke with praise, encouragement, and exhortation.
Youth often feel that they are not understood or feel misunderstood.
Youth are eager for church leaders who make an effort to step into their world and understand teen life, youth challenges, and the needs of youth. They want church leaders who are open and ask questions, giving youth opportunities to voice their views, share their ideas, and express their feelings.
Worship doesn't make a difference in the lives of the adults they know.
Youth have a hard time dealing with the gap between what people say and what they actually do, especially when it comes to parents and other significant adults in their lives. They don't expect perfection, but want to see living examples of lives being transformed by God's Word and by adults in the congregation that do more than give lip service to living as a Christian.
If we address these four issues in our messages and in the way we live our lives as Christians, youth are sure to sit up and listen the next time we share a sermon from the pulpit.
For more Ideas on Reaching youth in worship check out Creative Sermon Ideas.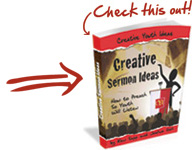 Get Help on Your Youth Sermons
Creative Sermon Ideas
This 100 Page e-Book Includes All The Help You Need To Prepare Powerful, Life-Changing Youth Sermons That Will Turn Your Preaching Around And Make Your Youth Sit Up And Listen! Includes 7 Complete Sermons.
–> I want More Youth Sermon Ideas…


| | |
| --- | --- |
| | Rate This Post by Clicking the Stars : |