Have a blank flip chart or sheets of newsprint prepared with all the letters of the alphabet from A to Z. Ask participants to fill in a holiday word or phrase that starts with each letter. Here are examples for you to use. Give bonus points for the letters Q, U, V, and Z.
A. Angels
B. Bells
C. Candy Canes, candles, cranberries
D. Deck the Halls ,doves
E. Elves, Eggnog, Eight Maids a Milking
F. Food, Frankincense, five golden rings, four calling birds
G. Garland, Goose
H. Holly
I. Incense
J. Jingle Bells
K. Kwanzaa
L. Logs – as in Yule
M. Mistletoe, Menorah, Mir
N. Noel
O. Ornaments
P Peace on Earth, Partridge in a pear tree.
Q. Quiet
R Ribbons, Reindeers
S. Silent Night, Seven Swans a Swimming, Six geese a laying, Shoes, Sleigh, Santa
T. Trim, Turkey, two turtle doves, three French hens
U.
V. Venison
W. Wreaths
X. X-mas
Y. Yule tide
Z.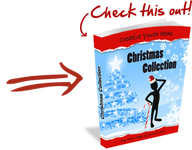 Christmas Collection


Games and Activities helping youth discover the Reason for the Season.
Get more than 200 creative ideas for planning a Youth Christmas celebration or Christmas Party party. You can immediately download my best Christmas Icebreakers, games, illustrations, Christmas activity ideas AND MUCH MORE in a useful ebook!
=> Tell me more about the Christmas Collection


| | |
| --- | --- |
| | Rate This Post by Clicking the Stars : |