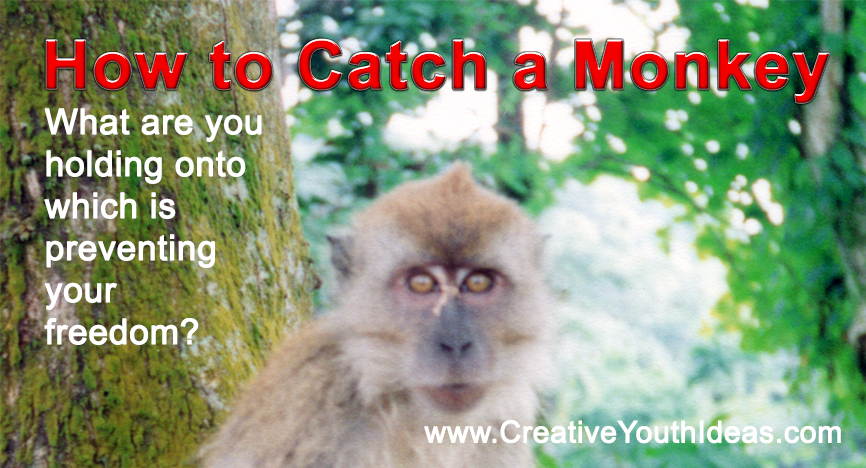 "What are we doing tomorrow?" the young hunter asked his uncle.
"Let's catch some monkeys." the uncle replied.
"Monkeys?" the young hunter asked
excitedly
.
"Yes," the uncle said with a smile, "And if you catch one you can take him home as a pet."
And so, the next morning, at the first hint of dawn they set off from their hut and into the jungle. After some time, they came to a coconut tree and the uncle sat upon the ground.
"It's time to prepare the monkey trap," he said.
He then picked up a
freshly
fallen coconut, cut a small hole in the top, and drank the refreshing coconut water. He passed the coconut to the young hunter, along with a knife. "Make the hole bigger, but not too big."
He then placed a small, fragrant orange in the hollowed-out coconut and chained the coconut to a tree. The young hunter and uncle retreated to hide in the nearby bushes.
It wasn't long before the chains made a loud, rattling sound. The young hunter peeked his head out of hiding. And then he saw it. A panicked monkey was
desperately
trying to free his hand from the coconut.
The uncle explained, "As long as the monkey keeps its fist wrapped around the orange, he will never escape. The monkey
merely
needs to let go. But he is too focused on the orange to realise the path to freedom."
That which is true of monkeys is also true of people.
What is it that you're holding onto that's keeping you from freedom in your life?

| | |
| --- | --- |
| | Rate This Post by Clicking the Stars : |