Materials
A Christmas gift wrapped in multiple boxes and multiple layers of tough tape. It helps to have several layers of wrapping paper and boxes within boxes to make the game more challenging. Make it as difficult to unwrap as possible, with as many layers as possible; pair of dice in a basket; numerous items of clothing including heavy gloves, tie, coat, Santa hat, winter scarf, snow goggles, or anything else silly. (The more items you have, the more difficult it is to unwrap the gift. Heavy gloves also make it more difficult)
Activity
The objective is to be the person who FINISHES unwrapping the present. Place the gift in the center of a circle of people. A basket with dice is passed around. When a person rolls double sixes, they run up to the gift, don the clothing, and then begin unwrapping the gift as quickly as they can. (The more items they need to put on the less they'll be able to unwrap) The dice continue to be passed and as soon as someone else rolls double sixes, they put on the clothing items and then take their turn at unwrapping the gift. Play continues until the present is completely unwrapped.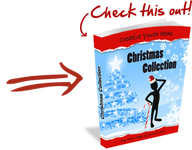 Christmas Collection


Games and Activities helping youth discover the Reason for the Season.
Get more than 200 creative ideas for planning a Youth Christmas celebration or Christmas Party party. You can immediately download my best Christmas Icebreakers, games, illustrations, Christmas activity ideas AND MUCH MORE in a useful ebook!
=> Tell me more about the Christmas Collection


| | |
| --- | --- |
| | Rate This Post by Clicking the Stars : |