Children's Sermon Description
A manger scene, also known as a nativity scene, serves as a creative object lesson in this Children's Sermon which teaches children that Jesus is the most important element of Christmas.

Materials:
Classic Manger Scene containing:
A manger
Shepherds
Animals
Mary
Joseph
The Wisemen
A stable
Baby Jesus
Add a small Santa figurine of the same size as other figures in the nativity.
Preparation:
Have all the pieces of the manger scene lined up across a table or a pulpit
Add a Santa and do not include the baby Jesus.
What to do:
Ask the children to correctly position the figures in the nativity scene.
Some of the children may correctly recognize that Santa doesn't belong. It's great if they do, but if they don't simply ask, "Is there something that shouldn't be here?"
Explain:
Santa wasn't part of the original Christmas, but became part of our Christmas Tradition many years later when a person named St. Nick brought gifts to people who were in need, sick, or suffering. So actually Saint Nick really wasn't at the manger scene. Actually the wisemen weren't there either. They had a very long journey and only arrived later. The visited Jesus at his house, not in the stable.
What to do:
The children may notice that the Baby Jesus is missing from the nativity scene! That's Great! If they ask where Baby Jesus is, respond by asking "Are you sure Jesus should be there?" If they don't mention it ask, "Is anything missing?"
Explain:
Yes, the most important part of Christmas is the birth of Jesus. Some people seem to forget about Jesus. Sometimes they even focus more on Santa than on Jesus. But the birth of Jesus is the real reason we celebrate Christmas. Jesus was a gift from God – the greatest gift. And God sent him to help us! Jesus would grow up and one day show us how much God really loves us!
Conclusion
So this Christmas remember that the best gift was? JESUS.
The reason we celebrate Christmas is? JESUS
When someone asks you what you want for Christmas? Say – JESUS!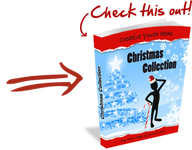 Christmas Collection


Games and Activities helping youth discover the Reason for the Season.
Get more than 200 creative ideas for planning a Youth Christmas celebration or Christmas Party party. You can immediately download my best Christmas Icebreakers, games, illustrations, Christmas activity ideas AND MUCH MORE in a useful ebook!
=> Tell me more about the Christmas Collection


| | |
| --- | --- |
| | Rate This Post by Clicking the Stars : |