This is probably more appropriate for children rather than youth, but I have included it on the website anyway as we have a lot of children's workers who visit.
GAME DESCRIPTION
In this Christmas Party Game, participants must dance to the Christmas Holiday Music until it stops. When the Christmas Music stops, everyone must freeze in place.
GAME MATERIALS
A good selection of Christmas Music that is upbeat and suitable for dancing.
Optional: A good camera to take photos of the dancers in various fun poses after the music stops.
GAME PREPARATION
– Set up a CD player or stereo system to play the music.
GAME PLAY
Everyone must dance as long as the Christmas music is playing.
As soon as the music stops, everyone must freeze.
Anyone who moves after the music stops is eliminated.
The last player left wins!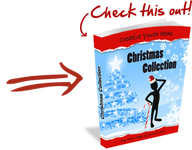 Creative Youth Ideas Christmas Collection
Games and Activities helping youth discover the Reason for the Season. Get more than 200 creative ideas for planning a Youth Christmas celebration or Christmas Party party. You can immediately download my best Christmas Icebreakers, games, illustrations, Christmas activity ideas AND MUCH MORE in a useful ebook!
=> Tell me more about the Christmas Collection


| | |
| --- | --- |
| | Rate This Post by Clicking the Stars : |