Game Description
How well can you draw the Halloween Jack-o-Lantern?  Here is a great youth game idea for the Halloween season. You can use it to bring a fresh spiritual meaning to the holiday and allow your youth to apply it to seeking God's plan and direction for their lives. You could even relate it to a talk about not conforming to the patterns of the world. Be creative and have a great week!  And for those completely adverse to anything associated with Halloween, see the alternative variation under the "preparation" section.
Game Materials
Paper
Colored pens or pencils
Several different Pumpkin Faces (Drawings or actual pumpkins)
One blindfold for each team
Game Preparation
Create several different pumpkin jack-o-lantern faces either by drawing them or by cutting them into actual pumpkins. The more intricate and detailed the face, the more difficult it will be for participants.
Variation: If you are adverse to having anything even remotely associated with Halloween, you can use the shapes of natural fallen leaves from various trees or simple images from a Children's Bible Story book.
Game Play
Divide your church youth group into various teams or into couples.
Have each youth team choose one "Picasso" who will draw the pumpkin face.
Blindfold all the Picasso's
Reveal the carved pumpkin or the sketched pumpkin Jack-O-lantern face.
Teams must instruct their blindfolded "Picasso" using words only how to draw the pumpkin face on a piece of paper. (No touching is allowed).
You might want to give the teams 2 or 3 minutes to complete their masterpieces.
Compare the final masterpieces drawn by the youth to the actual pumpkin or original drawing and the one that is closest to the original wins!
Swap roles and have a new "Picasso" to play again!
Variation
Allow team members to roam about the room and try to distract or give incorrect instructions to opposing teams. But beware, this can get very noisy! (In the debrief, you can discuss the distractions and false instructions we face in life.)
Give the Picasso 10 seconds one round to see the jack-o-lantern face before blindfolding them. Did it help them to better understand the instructions?
Instead of judging which pumpkin is closest to the original, create a list of items to award various points:

20 points for drawing a circle so that the line crossed or connected with itself
10 points for each eye that was drawn INSIDE the circle.
20 points for a stem that was actually on top of the pumpkin
5 points for getting the mouth inside the circle
5 points if the mouth was BELOW both of the eyes
5 points for each eye that was the correct shape
5 points for each mouth that was the correct shape
5 points for getting the nose inside the circle
5 points for putting the nose between the mouth and the eyes
5 points for any triangle that is drawn
1 point for each place that lines cross each other.
ETC
Take it to the Next Level
If you were able to see the desired result before putting on the blindfold would it have made a difference? Explain.
What role does "vision" play in accomplishing goals?
Was it more important – to focus on the big picture or the small details?
Did the person giving instructions do so clearly, orderly, and in a way that helped you achieve the desired results? Could any of the instructions have been clearer? How could the person giving instructions be more effective?
Make it Spiritual
Has God given us a pattern for life? Do we know what the end result is supposed to look like?
Does God focus more on the big picture or on the small steps needed to create the end result?
Are God's instructions clear? Explain.
What can youth do to hear God more clearly?
Are there things in the lives of youth that obstruct God's directions?
What are some of our standards for comparison for the Christian walk?
Make it Practical
Are there things in your life that are out of place?
Do you know what you are supposed to create with your life or do you feel you are struggling in the dark?
What are some of the references that have played the biggest role in how you have formed your own Christian life?
How will God judge the end results of your life?
Make it Personal
What is something you can do this week so that God can use you for greater results with your life?
Scripture References
"but I gave them this command: Obey me, and I will be your God and you will be my people. Walk in obedience to all I command you, that it may go well with you." – Jeremiah 7:23
"For I know the plans I have for you," declares the Lord, "plans to prosper you and not to harm you, plans to give you hope and a future." – Jeremiah 29:11
"My sheep listen to my voice; I know them, and they follow me. I give them eternal life, and they shall never perish; no one will snatch them out of my hand. My Father, who has given them to me, is greater than all; no one can snatch them out of my Father's hand. I and the Father are one." – John 10:27-30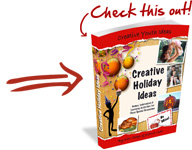 Creative Youth Ideas – Holiday Collection


Games and Activities in Celebration of common Holidays.
Creative Holiday Ideas has over 300 pages of ideas to help you plan your next New Year's Day, Valentine's Day, Mother's Day, Father's Day, Halloween or Fall Festival, and Thanksgiving event. If you've ever wondered what you're going to do for all these holidays and how you're going to do it, this resource is for you.
=> Tell me more about the Holiday Collection


| | |
| --- | --- |
| | Rate This Post by Clicking the Stars : |