Description
Youth will find the Easter basket by following the string.
Resources
Preparation
Run and Loop strings throughout the playing area with the Easter basket on the end of the string. Go under chairs, cross over other strings, etc. Have one string and basket for each youth or groups of youth working as a team..
What to do
From the youth into two or more groups.
Tell the group to follow the tangled strings until they reach the Easter basket.
The first group to do so will win.
Variation
You can place treats along the way to make it more fun.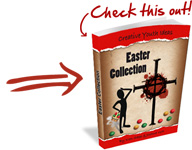 Easter Collection


Games and Activities in celebration of Easter.
Get more than 80 creative ideas for planning a Youth Easter celebration or Easter Party. You can immediately download my best Easter Icebreakers, games, illustrations, Easter activity ideas AND MUCH MORE in a useful ebook!
=> Tell me more about the Easter Collection


| | |
| --- | --- |
| | Rate This Post by Clicking the Stars : |