Description
The youth that correctly guess the number of Easter eggs in the Easter basket wins a prize.
Resources
Easter eggs of various types and a large Easter basket
Preparation
Fill the big Easter basket with eggs of different colors and sizes. Use real eggs as well as chocolate eggs, etc.
What to do
Youth will guess the number of Easter eggs in the Easter Basket and write it on a piece of paper along with their name.
Read out the guesses at the end of your Easter Party and the person who gets the closest gets to take home the Easter Basket filled with Easter goodies.
Variation
You can also give the youth a piece of paper and a pen as they arrive at your Easter Party. As the game starts, you can ask everybody to write their names on the piece of paper and their answer to the question, "How many Easter eggs are there in the basket?" Collect all the pieces of paper and announce the names of the youth and the answers. Slowly remove all the eggs from the Easter basket and count them as you empty it to create more suspense than simply calling out the answer.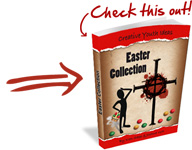 Easter Collection


Games and Activities in celebration of Easter.
Get more than 80 creative ideas for planning a Youth Easter celebration or Easter Party. You can immediately download my best Easter Icebreakers, games, illustrations, Easter activity ideas AND MUCH MORE in a useful ebook!
=> Tell me more about the Easter Collection


| | |
| --- | --- |
| | Rate This Post by Clicking the Stars : |