A four-year-old and a six-year-old presented their Mom with a house plant. They had used their own money and she was thrilled. The older of them said with a sad face, "There was a bouquet that we wanted to give you at the flower shop. It was real pretty, but it was too expensive. It had a ribbon on it that said, 'Rest In Peace,' and we thought it would be just perfect since you are always asking for a little peace so that you can rest."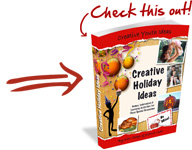 Holiday Collection


Games and Activities in Celebration of common Holidays.
Creative Holiday Ideas has over 300 pages of ideas to help you plan your next New Year's Day, Valentine's Day, Mother's Day, Father's Day, Halloween or Fall Festival, and Thanksgiving event. If you've ever wondered what you're going to do for all these holidays and how you're going to do it, this resource is for you.
=> Tell me more about the Holiday Collection


| | |
| --- | --- |
| | Rate This Post by Clicking the Stars : |