A teacher gave her class of second graders a lesson on the magnet and what it does. The next day in a written test, she included this question: " My full name has six letters. The first one is. I pick up things. What am I?" When the test papers were turned in, the teacher was astonished to find that almost 50 percent of the students answered the question with the word 'Mother'.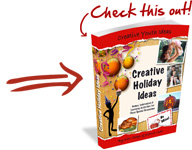 Holiday Collection


Games and Activities in Celebration of common Holidays.
Creative Holiday Ideas has over 300 pages of ideas to help you plan your next New Year's Day, Valentine's Day, Mother's Day, Father's Day, Halloween or Fall Festival, and Thanksgiving event. If you've ever wondered what you're going to do for all these holidays and how you're going to do it, this resource is for you.
=> Tell me more about the Holiday Collection


| | |
| --- | --- |
| | Rate This Post by Clicking the Stars : |