On Mother's Day we take the opportunity to thank our mothers for all the advice and care they have given to us over the years, especially during our years as children and as youth. But a mother is a mother forever!
As something a little different, why not add a comment by clicking on the comment link in the box at the bottom of this post and share a real word of advice given to you by your mother.
"How on earth can you see the TV sitting so far back?"
"Yeah, I used to skip school a lot, too."
"Just leave all the lights on … it makes the house look more cheery."
"Let me smell that shirt — Yeah, it's good for another week."
"Go ahead and keep that stray dog, honey. I'll be glad to feed and walk him every day."
"Well, if Ron's mamma says it's okay, that's good enough for me."
"The curfew is just a general time to shoot for. It's not like I'm running a prison around here."
"I don't have a tissue with me … just use your sleeve."
"Don't bother wearing a jacket – the wind-chill is bound to improve."
And be sure to let your mom know you appreciate her this Sunday for Mother's Day!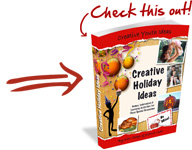 Holiday Collection


Games and Activities in Celebration of common Holidays.
Creative Holiday Ideas has over 300 pages of ideas to help you plan your next Mother's Day celebration or youth event for mothers.  If you've ever wondered what you're going to do for Mother's Day and other familiar holidays and how you're going to do it, this resource is for you.
=> Tell me more about the Holiday Collection


| | |
| --- | --- |
| | Rate This Post by Clicking the Stars : |