Your children know how to read HTML code but can't operate a vacuum cleaner.
Your children tell you that you said "yes" and you don't even remember the question.
You go to the grocery store and find yourself having a good time.
Your husband asks how your day went and you rate it on a scale of 1-10 repeats of "stop that!" or "no!".
You can't remember the last time you didn't have to share your drink.
You mistakenly tell the kids it's "sanity" time when you meant to say "bed" time.
The laundry seems to have taken on an evil nature and you begin to feel that it's out to get you.
You dread hearing the phone ring because it's a sure sign there's about to be trouble amongst the children.
It's finally your turn on the computer and "Touched by an Angel" is just coming on.
You go to sleep with "I'm bored" or "I'm hungry" still ringing in your ears.
Source Unknown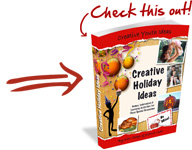 Holiday Collection


Games and Activities in Celebration of common Holidays.
Creative Holiday Ideas has over 300 pages of ideas to help you plan your next New Year's Day, Valentine's Day, Mother's Day, Father's Day, Halloween or Fall Festival, and Thanksgiving event. If you've ever wondered what you're going to do for all these holidays and how you're going to do it, this resource is for you.
=> Tell me more about the Holiday Collection


| | |
| --- | --- |
| | Rate This Post by Clicking the Stars : |