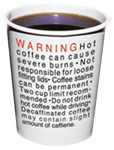 Coffee Cup
Caution: Hot beverages are hot!
Tesco's Tiramisu dessert
Do not turn upside down. (printed on bottom of the box)
Package of Dice
Not for human consumption.
Breath Savers
Not for weight control.
Japanese food processor
Not to be used for the other use.
Pack of Peanuts
Open packet and eat contents.
Fruit Roll-ups
Peel fruit from cellophane before eating.
Grapes
Please store in the cold section of the refrigerator.
Marks & Spencer Bread Pudding
Product will be hot after heating.
Swann frozen dinners
Serving suggestion: Defrost.
Soft Drink
Twist top off with hands. Throw top away. Do not put top in mouth.
Sainsbury's Peanuts
Warning: contains nuts
Pop-Tarts
Warning: Pastry Filling May Be Hot When Heated.
Fritos
You could be a winner! No purchase necessary. Details inside.
On a bottle-top of a flavored milk drink
After opening, keep upright.

This 170 page resource not only provides 52 of the world's most popular group icebreaker activities and games, but also includes lesson ideas and discussion questions to smoothly transition into conversations about the issues common to most groups.
Click here to find out how to get your hands on this incredible resource!


| | |
| --- | --- |
| | Rate This Post by Clicking the Stars : |