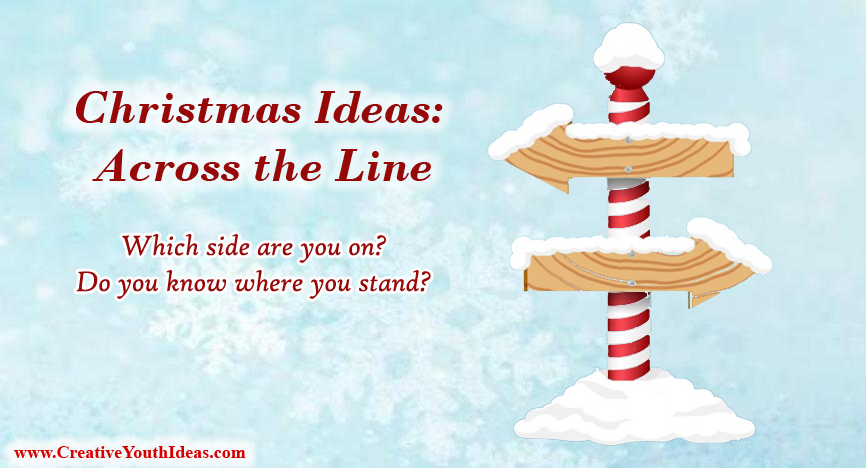 Location
Anywhere a line can be drawn across the meeting area.
Energy level: Medium
Description
Which side are you on? Do you know where you stand? Find out in this Christmas icebreaker where participants move back and forth to opposite sides of the room depending on their Christmas related preferences.
Resources
If you have time, use string or tape to make a line down the center of the room. Alternatively, just use chairs or stand in the center as a reference point.
Preparation
Come up with a list of Christmas related choices. You will want to choose those ideas that are a little crazy and fun
as well as lead into the topic of your discussion. It's best to end with the one that is most closely related to your Christmas discussion topic. Here is a partial Christmas list. Highlight those or put a tick mark beside those you wish to use for your Christmas Bible study / lesson.
You can also add your own ideas! Don't use them all… about 10 to 15 is a good number… after that it gets boring! Always leave them wanting for more… as soon as interest starts to decrease a little, it's time to move on to the next debrief!
Here's a list of ideas
Shepherd – Wise man
Mary – Joseph
Candy Canes – Chocolates
Give a gift – Receive a Gift
Gingerbread Man – Plum Pudding
Rudolph – Frosty
Poinsettia – Mistletoe
Nuts – Fruits
Live Tree – Artificial Tree
Silent Night – Jingle Bells
Snow – Sunshine
PSP – Wii
Cinnamon – Nutmeg
Eggnog – Hot Chocolate
Christmas Eve – Christmas Day
Nutcracker Suite – Handel's Messiah
Matthew – Luke
Wreath – Holly
Star – Angel
Homemade Card – Store Bought card
Snowflake – Snowball
Red – Green
Tinsel – Garland
Turkey – Ham
Apple Pie – Pecan Pie
What to Do
Divide the room in half and put a line down the middle. You will be giving the participants TWO Christmas options, one for each side of the room.
Stand on the line in the middle of the room. As you call out each Christmas related preference point to the corresponding side of the room.
Everyone must then move to the side of the room based on his/ her Christmas related preference. If both options apply then they must choose the one which is true more often.
For example. I may call out Eggnog (point to left side) and Hot Chocolate (point to right)… If someone prefers eggnog rather than hot chocolate he /she will move to the left side of the room. If they prefer hot Chocolate they should move to the right side of the room.
Breaking into Groups
As you play, take note of those options where the groups were almost equal in size. Later if you want to break the participants up into two groups, use those identifiers to split them up.
Take It to the Next Level
General discussion questions:
Which Christmas related choice was easiest for you to make?
Which Christmas related choice was most difficult for you? Why?
Where there any surprises? (Example: People with the same choice as you that you didn't expect?)
In what ways is the group most alike?
In which choices were you in the minority? Does being in the minority make you more bold or more uncertain?
Have you ever felt that you were all alone in certain beliefs, attitudes, habits, or characteristics? How can knowing others are just like you help?
Take It Spiritual
Did you choose Mary or Joseph? Why?
Mary and Joseph had some difficult choices to make. What were some of the issues they faced? Whose choice was more difficult? Why?
Did you choose shepherd or wise man? Why? What did the birth of Christ mean for each?
Action Point
You probably shared something in common with almost everyone in the group during one choice or another. What is one way you can you build on the things you have in common to form positive relationships with everyone.
This Christmas you will need to make a lot of choices… Make sure all of your choices bring glory to God and proclaim the good news to all people!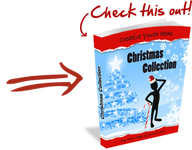 Christmas Collection


Games and Activities helping youth discover the Reason for the Season.
Get more than 200 creative ideas for planning a Youth Christmas celebration or Christmas Party party. You can immediately download my best Christmas Icebreakers, games, illustrations, Christmas activity ideas AND MUCH MORE in a useful ebook!
=> Tell me more about the Christmas Collection


| | |
| --- | --- |
| | Rate This Post by Clicking the Stars : |