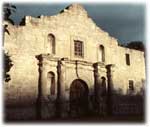 Commitment can be costly. Yet there are times when there is no cost that is too high, there is no line we will not cross to accomplish that which we truly believe in.
On March 3, 1836 the cannons fell silent for a few moments. The Alamo, a small fort, was defended by a mere 190 men, but was surrounded by thousands of Mexican soldiers. The Mexican army, under the leadership of General Santa Anna, was determined to put down a revolt of colonists seeking freedom and independence.
As the sun began to set, Commander Travis stood before the tired group of men. Legend recounts that he took his sword from his sheath, drew a line in the sand with its tip, and asked all that were willing to die for the cause of freedom to step over it. We don't know why each man chose to cross, but in the end, all the defenders except one crossed the line, including the ailing Jim Bowie who asked that he be carried across in his cot.
The line in the sand may have been real or it may have been metaphorical, yet each man at the Alamo had already drawn a line in his heart and each had already crossed. They had committed their lives to a cause that they believed in — freedom.
Their attitude might best be illustrated by the final letter sent by Commander Travis seeking reinforcements:
" I am besieged with a thousand or more of the Mexicans under Santa Anna. I have sustained a continual bombardment and cannonade for 24 hours and have not lost a man. The enemy has demanded surrender at discretion; otherwise, the garrison is to be put to the sword, if the fort is taken. I have answered the demand with a cannon shot, and our flag still waves proudly over the wall. I shall never surrender or retreat…."
He signed it with the following exclamation!
VICTORY OR DEATH
"Remember the Alamo" became the rallying cry of the Texas Revolution. Texas would later become a state of the USA, but people continue to remember the Alamo as a heroic struggle against overwhelming odds — a place where men made the ultimate sacrifice for something they believed in.
When faced with over-whelming odds, remember the Alamo.
Remember that freedom demands a price.
Remember that independence comes with a cost.
Remember that if you want to make a difference in the lives of others..
…its time to cross the line!
After all, Jesus crossed the line between heaven and earth and died for your freedom!

Copyright 2004 by Ken Sapp


MORE IDEAS? See "Creative Object Lessons"
200 page e-book that explains everything you need to know when planning your very own object lessons. It contains 90 fully developed object lesson ideas and another 200 object lesson starter ideas based on Biblical idioms and Names / Descriptions of God.


| | |
| --- | --- |
| | Rate This Post by Clicking the Stars : |